US, South Korea Begin Joint Naval Exercise Amid Hints Pyongyang Poised For Another Nuclear Test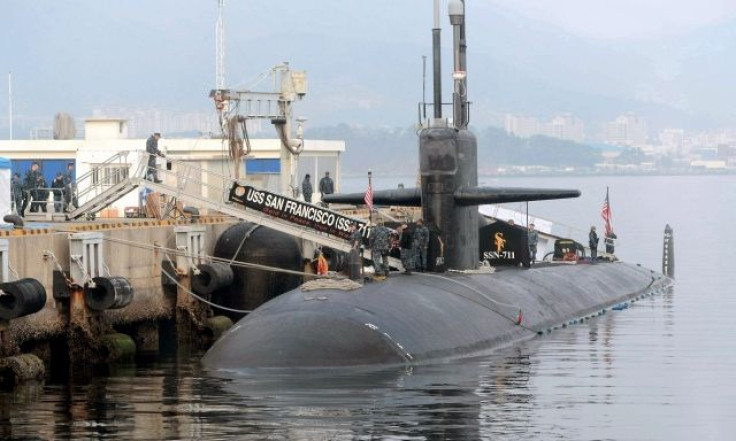 South Korea and the U.S. launched a joint three-day naval drill Monday involving a U.S. nuclear submarine in the waters off the coast of the divided peninsula. The exercise comes amid speculation that North Korea is poised to test a nuclear weapon.
Two U.S. ships equipped with long-range cruise missiles—the USS San Francisco, a 6,800-ton nuclear submarine, and the 9,800-ton Aegis cruiser Shiloh—were mobilized for the exercise being held off the southeastern port of Pohang, AFP reported.
The South Korean Navy deployed 10 vessels, including one 7,600-ton Aegis destroyer, its newest Type-214 submarines, anti-submarine and maritime surveillance aircraft and maritime helicopters, Seoul's Yonhap news agency reported.
"The exercise involves naval maneuvers, submarine detection, live-fire drills and anti-ballistic missile drills," an unnamed official of the U.S. Joint Chiefs of Staff was quoted as saying by Yonhap.
With the presence of a nuclear submarine, the drill is seen as a warning to Pyongyang, which has been threatening a nuclear test in response to expanded U.N. sanctions imposed after its long-range rocket launch in December.
China's agreement to join the Jan. 22 United Nations resolution condemning Pyongyang's December rocket launch and expanded existing U.N. sanctions were seen as a blow to the North Korean regime, which China has long supported since the Korean War in the early 1950s against U.S.-led U.N. troops.
Pyongyang issued a memorandum on Jan. 14 vowing to bolster its defenses as a measure to "actively contribute to peace and stability in the Korean peninsula and in the rest of Asia," alleging that Washington's "aggressive" Asia-Pacific strategy is the cause of tensions in the region.
North Korea's previous nuclear tests—in 2006 and 2009—were carried out within months of long-range rocket launches.
Over the past week, Pyongyang has issued a series of warnings threatening action over the sanctions.
On Jan. 25, North Korea warned the South Koreans that they could suffer "physical countermeasures" for any enforcement of the tightened international sanctions to stop its defense activities.
In an earlier statement issued Jan. 23, Pyongyang vowed to strengthen its "nuclear deterrence," saying it would not hold any more talks on the "denuclearization" of the Korean Peninsula.
On Sunday, the Pyongyang's official KCNA news agency said without providing details that North Korean leader Kim Jong-un made an "important" decision regarding the nation's security and sovereignty.
© Copyright IBTimes 2023. All rights reserved.
FOLLOW MORE IBT NEWS ON THE BELOW CHANNELS