US Stock Index Futures Point To Tuesday Rebound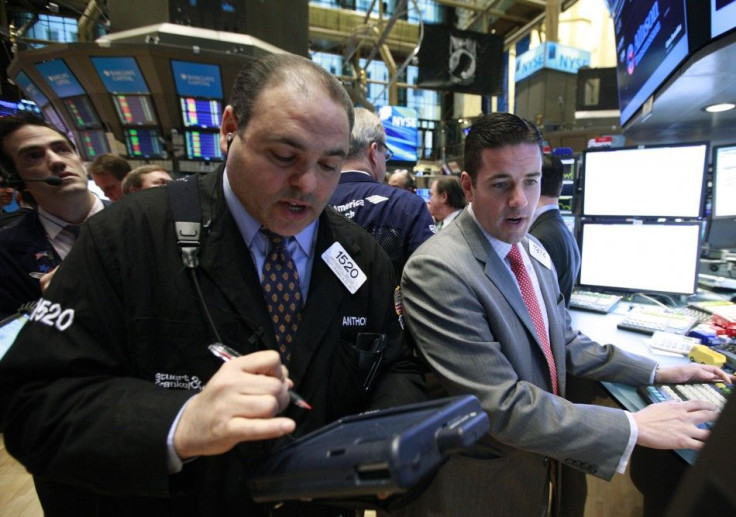 U.S. stock index futures pointed to a higher open on Wall Street on Tuesday, with the futures for the S&P 500 and the Dow Jones up 0.6 percent and Nasdaq 100 futures up 0.8 percent at 0733 GMT.
* European equities bounced up from 2012 lows on Tuesday, lifted by surprisingly strong German economic data, but concerns about the future of the euro zone and the possibility of Greece's exit from the bloc kept investors in a cautious mood.
* German gross domestic product grew 0.5 percent in the first quarter in seasonally adjusted terms - five times as fast as expected - as exports helped the economy bounce back from a contraction of 0.2 percent in the fourth quarter.
* Greece was still at the forefront of investors' minds, with the Greek president asking politicians on Tuesday to stand aside and let a government of technocrats steer the nation away from bankruptcy, but leftists have already rejected the proposal and looked set to force a new election they reckon they can win.
* Japan's Nikkei share average fell 0.8 percent to a 3-1/2 month closing low on Tuesday, weighed by exporters with exposure to Europe after Greece struggled to form a coalition government, raising fears that it may exit the euro zone.
* The Labor Department releases the April Consumer Price Index and Real Earnings at 1230 GMT. Economists in a Reuters survey expect an unchanged CPI reading, compared with a 0.3 percent rise in March, while real earnings are expected to drop 0.1 percent versus a 0.4 percent drop in the prior month.
* The Commerce Department releases April retail sales at 1230 GMT, expected to rise 0.2 percent compared with a 0.8 percent increase in March.
* The New York Federal Reserve releases its Empire State Manufacturing Survey for May, forecast to come in at 8.50 compared with 6.56 in April.
* The U.S. Commerce Department issues business inventories for March. Economists in a Reuters survey expect a rise of 0.4 percent versus a 0.6 percent rise in the prior month.
* JPMorgan chief Jamie Dimon faces shareholders after the bank lost billions of dollars on trading and hedging strategies gone wrong.
* Facebook Inc has increased the price range in Silicon Valley's biggest-ever initial public offering to raise more than $12 billion, a source familiar with the situation said, giving the No.1 social network a valuation potentially exceeding $100 billion.
* General Motors Co, the largest U.S. automaker, is interested in buying Ally Financial Inc's international operations, GM's chief executive told Bloomberg on Monday.
* Home Depot's first-quarter report card will show if the strong sales in the fourth quarter came at the expense of the all-important spring selling season. First-quarter earnings per share are expected at $0.65 compared to $0.50 in the year-ago quarter.
* U.S. stocks fell on Monday as investors dealt with the one-two punch of worsening political upheaval in the euro zone and the possibility that China's economy may be softening more than previously thought.
* The Dow Jones industrial average dropped 125.25 points, or 0.98 percent, to close at 12,695.35 on Monday. The Standard & Poor's 500 Index lost 15.04 points, or 1.11 percent, to 1,338.35. The Nasdaq Composite Index fell 31.24 points, or 1.06 percent, to 2,902.58.
--
© Copyright Thomson Reuters 2022. All rights reserved.
FOLLOW MORE IBT NEWS ON THE BELOW CHANNELS