US Syria Bombing: Syrian Refugees In Egypt Face Increasing Hostility Due to Crackdown On Islamists, While Their Numbers Grow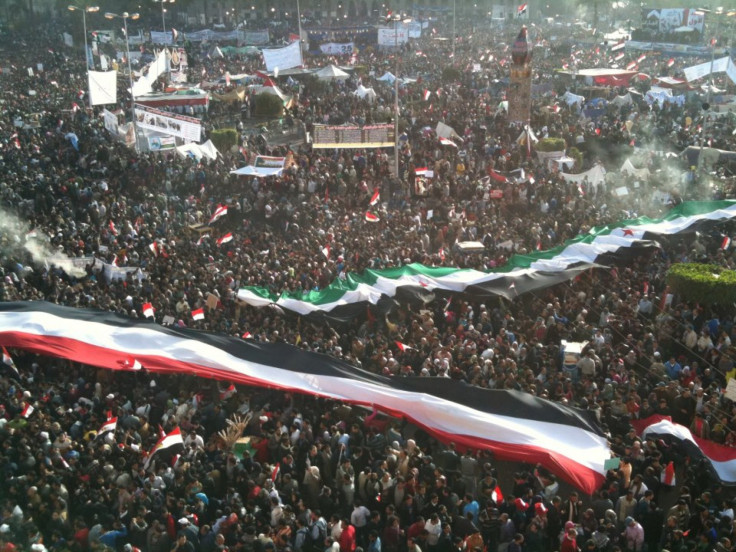 CAIRO, Egypt -- As if their situation weren't bad enough already, Syrians who are fleeing their country in increasing numbers ahead of anticipated U.S. strikes now find that Egypt is no longer a safe refuge.
Those who are already in Egypt, many of whom are white-collar workers or business owners, face increasingly difficult living and work conditions, primarily because the military-backed transitional government is cracking down on Islamists and anyone accused of supporting them. On top of that, there is growing resentment against Syrian refugees in Lebanon, where the largest number have fled.
"I came here for work three months ago," says Adham, a Syrian manager at an online marketing company in Cairo who declined to give his full name for fear of reprisal from Egyptian authorities. "I don't want to stay in Egypt anymore."
Now, he is eager to leave Egypt even before his visa expires.
"Most of my friends have left Egypt in the past month and are now in Turkey," he says. "It's not safe for Syrians here."
Since Syria's conflict erupted more than two years ago, an estimated 2 million refugees have fled the country, about half of them children, a U.N. report revealed this week. Some estimates place more than 100,000 of those refuges in Egypt, though the Egyptian ministry of foreign affairs estimates the number is much higher -- up to 300,000.
Until recently, Syrians who arrived in Egypt tended to be more affluent than refugees who end up in other nearby countries -- Iraq, Jordan, Lebanon and Turkey. Many opened their own businesses and rented nice apartments in suburban neighborhoods. Most of those have since moved on, primarily to Turkey.
"Only people who can afford a plane ticket come to Egypt," says Radwan Ziadeh, executive director of the Syrian Center for Political and Strategic Studies, who notes that Syrians in Egypt launched more than 370 small businesses during the last two years. "Of course, that's a contribution to the Egyptian economy," he adds.
In early July, Egypt's transitional government began requiring all Syrians to have an Egyptian visa to enter the country, which it calls a temporary security measure.
Since the ouster of the Morsi government in July by the military-based popular uprising, hundreds of Syrians have left Egypt for Turkey, the Gulf states or Europe. Many have closed their businesses as a result of recent violence, arrests and discrimination against the Syrian community in Egypt.
During the two years since Syria's conflict erupted, many Egyptians embraced Syria's revolution against Bashar Assad's regime, displaying giant Syrian flags alongside Egyptian flags in Tahrir Square during a mass protest to commemorate the Jan. 25 uprising this year.
Within months, this attitude changed quickly as the Muslim Brotherhood, which was losing popularity and control of the country, continued to publicly back the Syrian opposition. Former President Mohamed Morsi's speech pledging solidarity with Syrians against Assad did not help amid growing anti-Islamist sentiment in Egypt.
Since July, Egyptian television anchors and channels have singled Syrian refugees, accusing them of supporting the Muslim Brotherhood.
"The Muslim Brotherhood's support for the Syrians damaged the Syrians," says Rami Jarrah, a Cairo-based Syrian activist who said the government and state media have contributed to the increasingly xenophobic environment in Egypt. "Now everyone wants to leave."
Small Syrian-owned businesses are particularly vulnerable to the government and media backlash, but Nancy Farag, a managing director of the Cairo-based Axia Capital investment fund, says most large Syrian operators and manufacturers in Egypt face the same difficulties as other investors. For such companies, intimidation of Syrians in Egypt is a pivotal political and financial issue. A Coalition of Syrian Businessmen in Egypt issued a statement halting its investments in Egyptian businesses, estimated at $700 million.
The head of the coalition appealed to the interim prime minister, Hazem El-Beblawi, and the minister of trade and Industry, Mounir Fakhri Abdel-Nour, to curb the media campaign against Syrians living in Egypt.
"It's always easy to blame the instability on foreigners," Ziadeh says. "The media campain [against Syrians] is even more alarming. The media has full responsibility for spinning the news."
At least 200 Syrians have been arrested in Egypt in recent weeks, according to U.N. data. The arrests are a part of a larger security crackdown on Islamists and foreigners accused of collaborating with Islamists, including two Canadian citizens who were arrested without charges.
Human Rights Watch reports a "significant" increase in detentions of Syrians since July. "A tense political climate is no excuse for police and army officers to pull dozens of Syrian men and boys off of public transport and throw them in jail without regard for their rights," said Nadim Houry, deputy Middle East and North Africa director at Human Rights Watch, in a statement.
"If it [backlash against Syrians] continues, there will be no Syrians left in Egypt by the end of the year," Jarrah says.
© Copyright IBTimes 2023. All rights reserved.