U.S. Treasury Reports Record Budget Surplus In April As Revenues Soar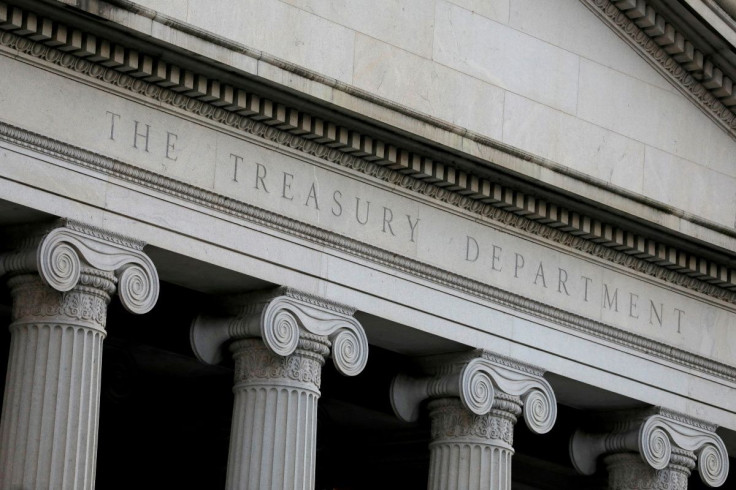 The U.S. government posted a $308 billion surplus in April - a record for any month - as receipts nearly doubled from a year earlier amid a strong economic recovery from the COVID-19 pandemic, the Treasury Department said on Wednesday.
The April surplus compared to a $226 billion deficit for April 2021, when receipts were reduced by a one-month delay in the annual tax filing deadline.
The previous record monthly surplus was $214 billion in April 2018. April has traditionally been marked by budget surpluses due to the traditional April 15 tax filing deadline, but deficits for that month were recorded in 2009, 2010 and 2011 after the financial crisis, and in 2020 and 2021 due to the pandemic, a Treasury official told reporters.
Receipts last month rose 97% from the year-earlier period to $864 billion, also a record for any month, the Treasury said.
The growth in receipts was driven by an increase of $400 billion, or 274%, in individual non-withheld tax payments to $546 billion, with part of the rise accounted for by last year's tax deadline delay. But individual taxes withheld from paychecks also grew 8% to $245 billion in April.
Outlays last month were $555 billion, down 16% from April 2021. The decline reflected lower spending for COVID-19 relief, including the end of direct payments to individuals and lower payments for unemployment and small business relief.
For the first seven months of the 2022 fiscal year, the government reported a deficit of $360 billion, down 81% from the year-earlier deficit $1.932 trillion. It was the lowest deficit for the first seven months of a fiscal year since a $344 billion gap for the same period of fiscal 2017, prior to the enactment of a Republican-backed tax cut package.
Year-to-date receipts swelled by 39% to $2.986 trillion - a record for the period - while outlays fell 18% to $3.346 trillion.
Federal Reserve earnings for the year-to-date period rose 46% to $71 billion, due to the expansion of the U.S. central bank's bond portfolio over the past year. But the Treasury official said the growth would soon begin to reverse as the Fed pays out higher interest on bank reserve deposits due to a jump in interest rates.
The Treasury's interest costs climbed 32% to $60 billion last month and rose 28% to $350 billion in the year-to-date period, largely as a result of compensation paid to holders of Treasury Inflation-Protected Securities (TIPS), which are indexed to consumer price inflation.
The Treasury official said that interest costs on normal public debt securities increased by only $2 billion during the year-to-date period and the weighted-average yield on outstanding Treasury securities was 1.66% in April, versus 1.65% in April 2021.
The Treasury said last week that strong receipts would allow it to pay down $26 billion in debt during the second quarter, with a period-end cash balance of $800 billion as it cuts debt auction sizes.
© Copyright Thomson Reuters 2023. All rights reserved.