U.S. 'Would Be More Involved' In Taiwan Than Ukraine, Says Island's Security Chief
KEY POINTS
Chen said Russia's war against Ukraine have discouraged Beijing from launching an invasion
He said the Taiwan Relations Act gives the U.S. the legal right to act against China
Chen said China would not attack Taiwan while President Tsai Ing-wen is in office
The security head of Taiwan has said that the U.S. would be more "deeply involved in a war" across the strait than in Ukraine if China decided to invade the self-ruled island. According to National Security Bureau director-general Chen Ming-tong, this is because of Washington's commitments to Taipei under the Taiwan Relations Act (TRA).
After delivering a national security report to lawmakers in Taipei, Chen added that developments in Russia's war on Ukraine have discouraged Beijing from launching an invasion, reported Taipei Times.
"China would be more cautious, because even though Washington has been avoiding direct involvement in the Ukraine conflict for fear of sparking a world war, the U.S. is helping through Common Data Link and other telecommunication systems, despite having no legal obligation similar to the TRA to help Ukraine," Chen replied when asked whether Beijing would be bolder or more cautious regarding military aggression against Taiwan.
The security chief also added that the TRA gives "legal authorization for the US government to take action" in the case of a cross-strait conflict.
"The current situation [in Ukraine] has given China much to think about, as the U.S. has given much support to Ukraine, even without a law similar to the TRA. Therefore, because of the TRA, we believe the U.S. would be much more involved in the event of a military conflict around Taiwan," he said.
Chen was responding to questions during Monday's legislature session. When queried about U.S. Indo-Pacific commander Admiral John Aquilino's statement that "Asian nations must take the possibility of a PLA attack on Taiwan seriously," Chen said the conflict in Ukraine has served as a warning to Beijing not to start a war.
"We know that Beijing has the intention of forcing unification on Taiwan, this is not a secret ... but the developments in Russia's war on Ukraine has discouraged Beijing from such an undertaking," Chen said, adding that Taiwan is not a "defenseless chicken."
"China would not attack Taiwan while President Tsai Ing-wen is in office... This is based on our understanding of China's thinking," Chen added.
The NSB chief also warned the lawmakers that the Ukraine war could benefit China by making the Chinese yuan a more internationally acceptable currency.
"Russia has sought help from China to fight against the economic sanctions, asking Beijing to open up its foreign reserves, and to use the yuan instead of the euro and the U.S. dollar in international exchanges, which conforms to China's long-term plans to have the yuan replace the U.S. dollar in international transactions," he said.
Chen's statement comes a day after Aquilino said that the Russian invasion of Ukraine showed Asian nations must take the possibility of a PLA attack on Taiwan seriously. He also expressed his concern about Beijing's increasing pressure on the island. "As of five months ago, nobody would have predicted the war in Ukraine, and the number one lesson from it should be that anything could happen," Aquilino told Financial Times.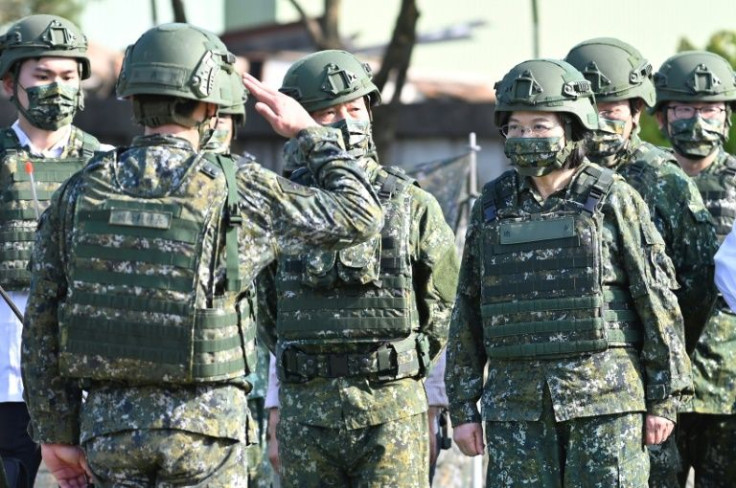 © Copyright IBTimes 2023. All rights reserved.