USA Basketball Team 2016: Who Is In, Who Is Out On The Rio Olympics Roster? Golden State Warriors Well Represented?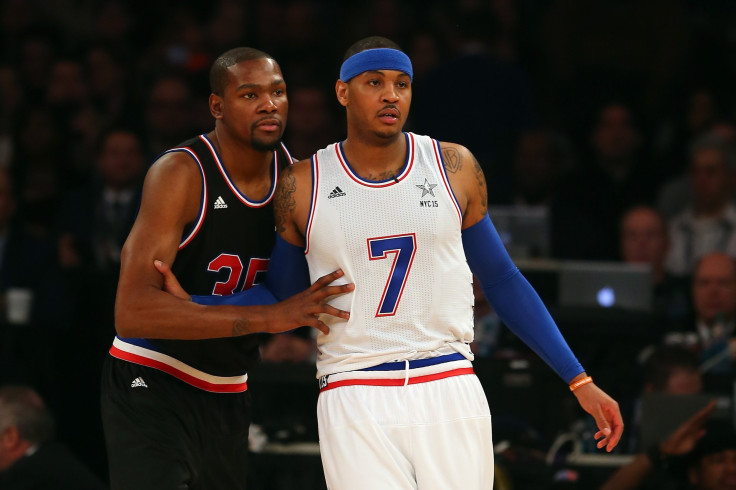 Fatigue from a long NBA season and perceived fears over the Zika virus have prompted a number of major superstars to withdraw from the United States Olympic team. While LeBron James and Stephen Curry have opted to skip the trip to Rio de Janeiro, head coach Mike Krzyzewski still has an embarrassment of riches in their quest for a third consecutive gold medal.
Some critics have preferred to gloss over the absentees (James, Curry, Russell Westbrook, James Harden, Chris Paul, Blake Griffin, and Anthony Davis) than focus on the top talent confirmed on the 12-man roster. With a strong group of outside shooters, Krzyzewski also rolls out a balanced squad that should pose matchup problems for their opponents at the Summer Games.
Kevin Durant, one of three members from the Golden State Warriors, and New York Knicks forward Carmelo Anthony are the best scorers, with Anthony seeking to become the first U.S. player to ever win three Olympic gold medals.
While Durant and Anthony should receive the most playing time in the frontcourt, Krzyzewski will decide between the Cleveland Cavaliers' Kyrie Irving and the Toronto Raptors' Kyle Lowry at point guard, and has the choice of the Chicago Bulls' Jimmy Butler and the Raptors' DeMar DeRozan at shooting guard.
Butler could prove especially invaluable to Krzyzewski on the world's biggest stage. The Bulls' leading scorer is one of the top perimeter defenders in the game and adds a full-court presence on both offense and defense that can be crucial in international basketball where the game is often less physical.
Warriors shooting guard and "Splash Brother" Klay Thompson is perhaps the best shooter at any distance on this team. In 2012, the U.S. team seemed more interested in alley-oop plays than knocking down outside shots, but Krzyzewski should feel some comfort knowing he has a pure shooter to stretch the court.
Meanwhile, the roster will also be quite deep for 40-minute games. The Indiana Pacers' Paul George and Warriors' Draymond Green will likely serve as the primary backups to Durant and Anthony, and should get starts depending on Krzyzewski's take on the matchups from game-to-game. Dallas Mavericks forward Harrison Barnes will likely fill the same role he did with Golden State, providing hustle to a squad that may emphasize scoring over than the intangibles.
Rounding out the roster are athletic big men DeMarcus Cousins (Sacramento Kings) and DeAndre Jordan (Los Angeles Clippers). A dearth of elite international centers should result in Cousins and Jordan having a strong tournament. However, Jordan is a liability at the free-throw line, which could mean he is used sparingly in crunch time.
The forward spots clearly were the most difficult selections for Krzyzewski and his staff to make, considering the big names that were cut loose last month. The last round of cuts took place on June 27 with guard Mike Conley, forwards Rudy Gay, Kenneth Faried, Andre Iguodala, Kevin Love, and center Dwight Howard missing the final 12-man roster.
Butler makes up for Iguodala, who is also a feared perimeter defender, while Love, Faried, and Howard could be missed on the glass.
Team USA's first matchup will be against China on Saturday Aug. 6.
Full 2016 USA Men's Olympic Basketball Roster
G Jimmy Butler
G Kyle Lowry
G DeMar DeRozan
G Kyrie Irving
G Klay Thompson
F Kevin Durant
F Paul George
F Draymond Green
F Carmelo Anthony
F Harrison Barnes
C DeAndre Jordan
C DeMarcus Cousins
Notable Withdraws (W), Injuries (I)
G Chris Paul (W)
G James Harden (W)
G Russell Westbrook (W)
G Damian Lillard (W)
G Bradley Beal (W)
F Kawhi Leonard (W)
F LeBron James (W)
F Gordon Hayward (W)
C Andre Drummond (W)
C Anthony Davis (I)
F Blake Griffin (I)
F LaMarcus Aldridge (I)
G John Wall (I)
G Stephen Curry (I)
© Copyright IBTimes 2023. All rights reserved.