USA vs. Argentina 2016: Betting Odds, Prediction For Men's Basketball Quarterfinal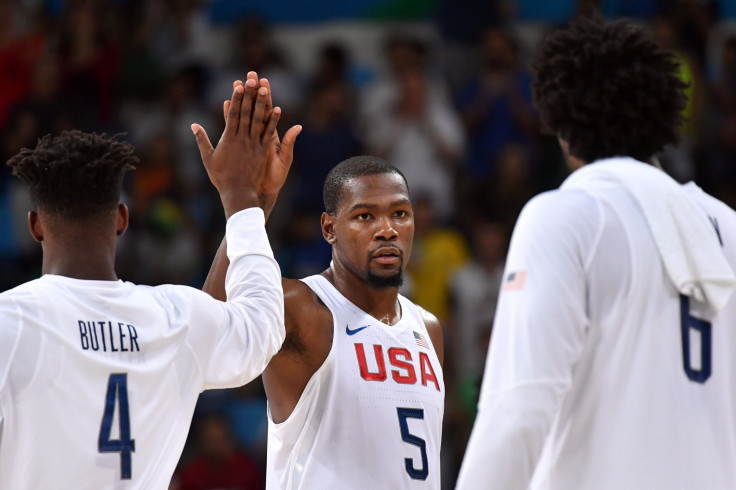 Critics and reporters at ground zero of the 2016 Rio Games have said the United States men's basketball team has lost any perception as unbeatable after three tight victories to close out pool play before Wednesday's quarterfinal clash with Argentina.
Oddsmakers, in the face of that criticism, evidently aren't swayed and continue to heavily favor head coach Mike Krzyzewski's squad. The U.S. currently stands as a 23.5-point favorite to defeat Argentina and advance to the semifinals for the third straight Games, according to Sportsbook.ag.
The point spread marks a Rio-low for Team USA following narrow wins over Australia, Serbia, and France by a combined 16 points in the last three group games, but it still stands as the largest margin compared to the rest of the quarterfinals field. Australia's a mere 3.5-point pick over Lithuania, while Spain maintains a 5.5-point spread over France, and Serbia owns the same line over Croatia.
However, oddsmakers have noticed Team USA's struggles in Rio and have adjusted the lines accordingly with each subsequent close game. In its second game of the tournament against Venezuela, the U.S. was a 50-point favorite, but sloppy handling and turnovers allowed the Venezuelans to keep things level in the first quarter, somewhat exposing the U.S.'s lack of experience together.
That closer than expected quarter was followed by a 29-point spread against Australia, which wound up being only a 10-point victory. Then, against Serbia, the line dipped even more to 24 points.
Still, the U.S. brings the most talented and deepest roster into the elimination rounds as well as the highest scoring. Through five games Team USA's averaging 104.8 points and has outrebounded each opponent by an average of 7.2 boards per contest. And even though the defense has lacked focus for a full 40 minutes, it's still generating 17.6 turnovers while the offense has coughed up just 10.8 per game.
More importantly, the two players on the 12-man roster with previous Olympic experience have largely lived up to expectations and led the way for the rookies. Kevin Durant continues to lead the team in scoring with 16.8 points and he's by far been the best shooter on the floor, nailing 11 of his 18 three-point attempts and 60 percent of his total field goals. Carmelo Anthony, continuing his pursuit of a record third gold medal, has fired off a team-best 34 threes and hit 15 for 15.2 points game.
Indeed, how well Anthony, Durant, and the rest of the squad (in particular Klay Thompson) can connect from deep-range will be a major factor against the Argentineans. Head coach Sergio Hernandez's squad have denied opponents on all but 29.7 percent of their threes and it too is forcing more than 17 giveaways a contest. Thompson proved to be the hero against France with 30 points and seven threes after going 3-for-16 from beyond the arc in the first four games.
Ultimately, it's quite possible the matchup comes down to revenge. Argentina's 89-81 victory over the U.S. in the 2004 semifinals in Athens, which eventually led to a gold medal and Team USA's first and only bronze, is the reason Krzyzewski and others took over USA Basketball and completely revamped the process while making the sport's founding nation realize it's no longer the sole superior force in international basketball.
Betting Odds: USA -23.5
Over/Under: 190.5 points
Prediction: USA over Argentina, 95-88
© Copyright IBTimes 2023. All rights reserved.