USA vs. Colombia Olympic Soccer: Time, TV Channel, Prediction, Live Stream Info For 2016 Women's Group Game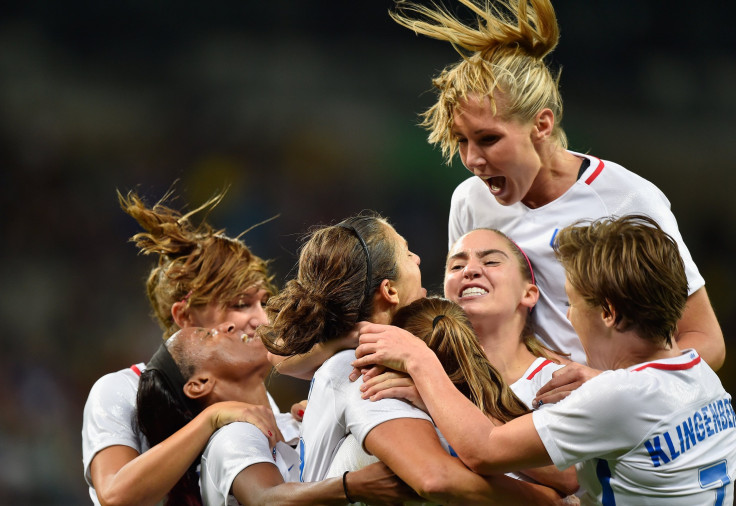 The United States women's soccer team will look to wrap up top spot in Group G at the 2016 Rio Olympics when taking on familiar foe Colombia in the stifling conditions of Manaus on Tuesday. After victories over New Zealand and France in its opening two matches, the U.S., which is seeking a fourth successive gold medal, has already guaranteed passage into the quarterfinals.
Carli Lloyd and co. need just a point against Colombia to be sure of moving on as group winners. That would in theory give the U.S. a more favorable draw in the last eight, with the winner going onto meet a third-placed team while the runner-up would have to face the first-place team from Group F, currently 2012 bronze medalist Canada. But the reward may not be all that kind, with the possibility that the third-placed team could be high-ranking Germany or Australia.
Still, the U.S. has no reason to fear any opponent right now. The world champion has not reached is sparkling best yet in Brazil, other than in brief flashes, yet, with the base of a solid defense and unparalleled mental toughness, it has still been enough for back-to-back wins. After a 2-0 victory over New Zealand, the U.S., helped by some big saves from Hope Solo, survived an early flourish and a late onslaught from world No. 3 France to grind out a victory thanks to a scrappy close-range finish from captain Lloyd.
The U.S. will hope to have an easier time of things on Tuesday. Certainly it has dominated Colombia in recent years, getting the better of Las Cafeteras at the last three major tournaments. After 3-0 wins in group play at the 2011 World Cup and the 2012 Olympics, the U.S. won 2-0 in the Round of 16 at last year's World Cup.
While Colombian women's soccer appeared to be on an upward curve, and it scored a famous win over France at the last World Cup, the 2016 Olympics has so far been a massive disappointment. Defeats to France and, more painfully, New Zealand mean that Colombia has only an incredibly slim chance of advancing onto the next round. To stay alive, Colombia would not only need to beat the United States, but also hope that several other results go in its favor.
Given that the U.S. position so strong and there is such little time between games at the Olympics – all four quarterfinals will take place on Friday – Ellis could well opt to rotate her lineup on Tuesday.
"With such a short turnaround we have to use every single player on this roster," midfielder Morgan Brian said. "And that's what's really cool about this tournament: Every single player is going to be needed at some time."
Ellis has said that both Julie Johnston and Mallory Pugh, who missed out on the game against France with minor injuries, will be available on Tuesday. It remains to be seen whether they will come straight back into the lineup, but Lindsey Horan and Christen Press, who have both come off the bench in the first two games, could earn first starts. There may also be a chance to hand first minutes of the competition to Megan Rapinoe, who hasn't played since last December after tearing her anterior cruciate ligament in her right knee.
Prediction: This should be a comfortable outing for the U.S. against a Colombia side struggling for form and likely to be morally deflated. Even if Ellis makes changes, the depth of the U.S. squad is such that it is still more than capable of putting in an impressive showing.
Predicted Score: USA 2-0 Colombia
Kickoff Time: 6 p.m. EDT
TV Channel: NBCSN, NBC Universo
Live Stream: NBCOlympics.com, NBC Sports Live Extra
© Copyright IBTimes 2023. All rights reserved.