USA vs. North Korea: Watch Live Stream Online of Olympic Women?s Soccer Clash; Prediction, Preview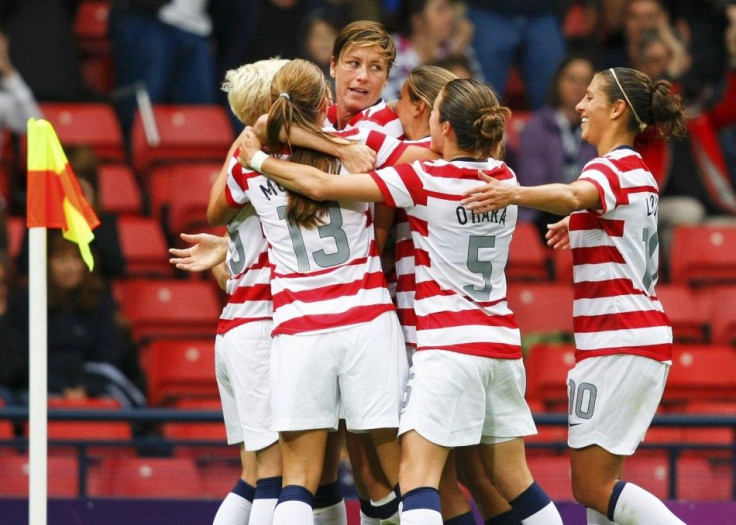 When and where: The final game of Group G at the Olympic women's soccer competition kicks-off from Old Trafford, Manchester at 12.15 p.m. ET. Coverage will be provided by the NBC Sports Network, with a live stream available on NBCOlympics.com.
Preview: The U.S. women's soccer team will face North Korea on Tuesday in their final game of the first round group stage The U.S. secured a quarterfinal spot with their 3-0 win over Colombia, but there is still much to play for with a victory securing top sport and, at least in theory guaranteeing an easier opponent in the quarterfinal. North Korea on the other hand need to better the result of France against Colombia if they are to secure their progress into the knockout phase.
After sloppy play in the early minutes against France, the U.S. has been dominant. In just two games, the U.S. has scored seven goals and played some spectacular soccer. North Korea split their first two games and will be a tricky opponent, but the U.S. faces little pressure and is expected to win.
The North Korean squad is inexperienced and boasts several players new to the international game. Like the Americans, they play a 4-4-2, though the U.S. enjoys more flexibility. With Shannon Boxx still out with a hamstring injury, Carli Lloyd will look to continue her stellar play, which has resulted in two goals.
Once again, Alex Morgan will be looking to use her speed to provide a key goal threat and keep the North Korean defense penned back. With her aerial play and size, Abby Wambach will also look to frustrate the North Korean back line, which does not boast players with tremendous size.
Meanwhile, the backline of the U.S. squad cannot afford any loose plays, especially in the early minutes of the game.
On the North Korean side, the backline will need to do everything in its power to keep Morgan from finding scoring opportunities. Sin Ui-Gun's side does possess players with excellent speed such as Kim Nam-Hui, but will still find it difficult to ward off Wambach, with her tall stature. Other key players for the North Korean defense will be captain, Kim Myong Gum and goalkeeper Jo Yun-Mi.
Jon Myong-Hwa will be a formidable threat to the U.S. backline and will likely set the attacking tempo. Kim Song-Hui, the most experienced player on the team scored the lone two goals in North Korea's opening game against Colombia and can challenge the U.S. defense.
North Korea likes to keep the ball moving with short passes and many touches. While this may work against weaker opponents, it will likely give the U.S. plenty of opportunities to gain possession, especially in the midfield.
Prediction: Given the U.S.'s size, speed, and depth, they will be able to find many scoring opportunities against a young and small North Korean team.
USA 3-0 North Korea
© Copyright IBTimes 2023. All rights reserved.