USC Eighth Grader Commit: Who Is The WR Phenom Recruit That Lane Kiffin May Add To The Trojans?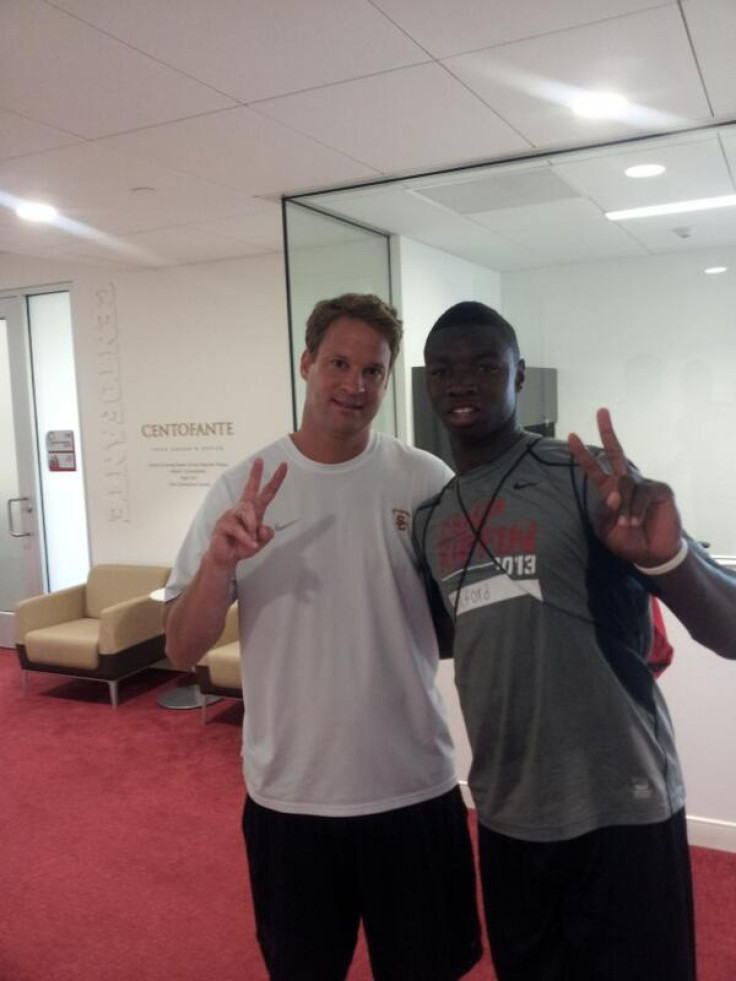 For the 2013 college football recruiting class, USC leads the way with five five-star recruits, according to rivals.com. Now, head coach Lane Kiffin is looking to get a head start on the class for a few years down the road.
The Trojans have, reportedly, offered a scholarship to an eighth-grader who will be a part of the 2017 recruiting class. A source tells ESPN that Nathan Tilford of Upland, California, has been given the offer, even before playing high school football.
Despite being in the eighth grade, Tilford might be able to compete with players a few years older than him. He stands at 6'2 and 190 pounds, and caught the eye of Kiffin and USC at a local seven-on-seven circuit, where he competed against older athletes. He impressed enough at the skills camp that the program decided they didn't want to wait to get him to commit. Tilford is listed as a wide receiver and will attend Upland High School in the fall.
The youngster still has a lot of time to make a decision about where he will play in a few years, but he is impressed by USC. Tilford saw the Trojans practice in March and told ESPN that he's "never seen anything like that before." He's stated that in addition to USC, Florida, Ohio State, Oregon and Texas are also on his radar.
Tilford isn't the only junior high school player to receive a scholarship offer. Dylan Moses from Baton Rouge, Louisiana, has already gotten offers from powerhouse football programs such as Alabama, LSU and Texas. USC has also extended scholarship offers to seven prospects from the 2015 class and receiver Brandon Burton, who won't be able to play in college for another three years.
© Copyright IBTimes 2023. All rights reserved.