VA Faces Increasing Criticism For Treatment Delays, Including Calls For Leaders' Resignations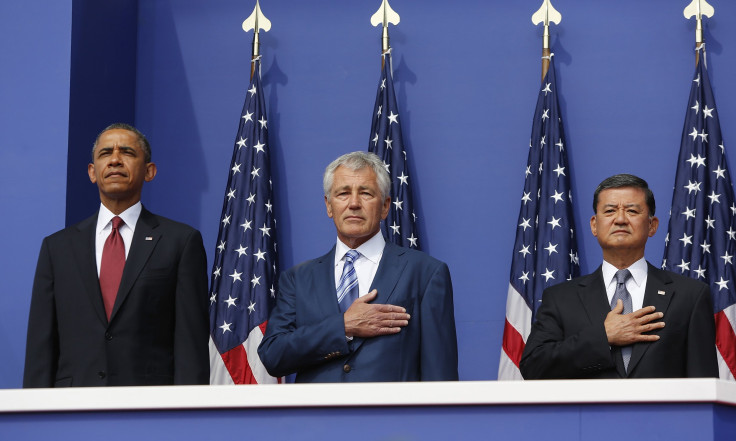 Despite Obama administration promises to transform the troubled Department of Veterans Affairs, a series of new revelations has heightened concerns about continuing, extensive problems in the agency.
The department's independent inspector general is investigating the VA -- the largest health care system in the United States, with 1,700 care sites and nearly 9 million veterans enrolled -- for problems with record-keeping and care, including claims that dozens of veterans succumbed to preventable deaths at its hospitals and clinics. Congressional representatives say they will launch their own hearings once the IG's investigation is complete.
The latest round of criticism stems from disclosures by two whistleblowers that the VA's Phoenix office maintained secret lists that obscured treatment delays. In addition:
*A third​ and fourth whistleblower at the Phoenix Veterans Affairs Health Care System provided more details of the "secret list" allegedly used by managers to make it appear that wait times for veterans were shorter than they actually were. At least 40 veterans died while waiting for care in Phoenix, according to whistleblowers. Three top managers in Phoenix have been placed on leave while the VA's inspector general investigates.
*A VA scheduling clerk accused higher-ups in Austin, Texas, and San Antonio of manipulating data in an attempt to hide long wait times to see doctors there, the Austin American-Statesman reported on Wednesday. The employee told the U.S. Office of Special Counsel, which protects government whistleblowers, that he and others were "verbally directed by lead clerks, supervisors, and during training" to ensure that wait times at the Austin VA Outpatient Clinic and the North Central Federal Clinic in San Antonio were "as close to zero days as possible," according to the newspaper.
Asked by the American-Statesman to respond to the allegations, local VA officials said in a statement that they would review their scheduling practices, though the newspaper said the statement did not directly address the claims.
According to the Austin paper, the statement read: "In light of the charges recently made against the Phoenix VA, [director of the Central Texas Veterans Health Care System Sallie] Houser-Hanfelder has made it clear she does not endorse hidden lists of any kind. To ensure the integrity of the health care system, she has directed each service chief to certify they have reviewed each of their sections and scheduling practices to ensure VA scheduling policies are being followed. All staff who schedule appointments have also been instructed to have refresher training to make sure policies are clear and being followed accurately."
*A similar scandal came to light in Fort Collins, Colorado, where USA Today reports management instructed workers to change records to make it look like its small staff of doctors was seeing patients within its 14-day goal. Cynthia McCormack, director of the Cheyenne (Wyoming) VA Medical Center, told The Coloradoan that the agency has put in place a plan to address scheduling issues at Fort Collins outpatient clinics. "It all goes back to we misunderstood the scheduling," she told the Coloradoan.
The General Accounting Office told the Washington Examiner that during the past year, the VA canceled more than 1.5 million medical orders without any guarantee that the veterans had received the treatment they needed. The Examiner also reported that the GAO says the VA doesn't know how many veterans are awaiting care.
The GAO said that since May 2013, VA clinics nationwide have been under pressure to clear 2 million backlogged orders for patient care or services and were given wide latitude to cancel unfilled appointments more than 90 days old. By April 2014, the backlog of what the agency calls "unresolved consults" was reportedly down to about 450,000.
In a rare move, Daniel M. Dellinger, national commander of the American Legion, the nation's largest veterans group, called this week for the resignations of VA Secretary Eric Shinseki, Under Secretary of Health Robert Petzel and Under Secretary of Benefits Allison Hickey. White House press secretary Jay Carney said Tuesday that President Barack Obama "remains confident" in Shinseki.
VA spokesperson Drew Brookie issued a statement rejecting the call for resignations, saying that if the investigator general's investigation substantiates allegations of employee misconduct, "swift and appropriate action will be taken."
In an interview with The Wall Street Journal Tuesday, Shinseki, a retired four-star general and Army chief of staff who was appointed by Obama in January 2009, said he will not resign. "I serve at the pleasure of the president," he said. "I signed on to make some changes, I have work to do."
Rep. Jeff Miller, R-Fla., who chairs the House Veterans' Affairs Committee and held hearings about the VA's troubles even before the Phoenix story broke, said as soon as the IG investigation of the Phoenix system is complete, Congress will follow up with its own hearings. The investigation's scope will include "at least 23 deaths related to delays in care the department has already admitted to as part of its own investigation," he told IBTimes.
Most veterans interviewed for this story welcomed the IG and congressional investigations, but said it is a mistake to view the current problems at VA as new and isolated.
"This stuff happens in every VA hospital, and it existed pre-Shinseki," said Rick Weidman, executive director for policy and government affairs at Vietnam Veterans of America. "I don't think Shinseki should resign; that doesn't bring us any closer to a solution. Bottom line? We don't have enough doctors on the ground. Fewer middle managers, more doctors, that would help a lot."
Paul Rieckhoff, founder and CEO of Iraq and Afghanistan Veterans of America, said in a statement Monday that what is happening in Phoenix and Fort Collins is "just the latest instance of the VA failing our veterans. Just as with the disability claims backlog, there is a glaring lack of leadership, accountability and oversight."
"What happened in Phoenix is not surprising. Only the scale of it was shocking," said Dan Caldwell, a Marine veteran who fought in Iraq and is now the issues and legislative campaign manager for Concerned Veterans for America. "There is a systemic and cultural problem at VA. We called for Shinseki to go a year ago, and we're happy the American Legion is now calling for it. But that isn't the only thing that needs to happen. Serious reform is needed at VA."
The VA has now treated more than 1 million men and women from the war zones of Iraq and Afghanistan, but Caldwell and other veterans and politicians note that VA managers rarely exercise their option of sending veterans outside the system for care when their wait times are too long.
Gina Jackson, a VA spokeswoman, told IBTimes that the agency provided fee-based care in fiscal year 2013 to "over 1 million veterans at a cost of $4.8 billion dollars." From Oct. 1, 2013 through March 2014, Jackson said, "We have provided fee-based care to approximately 784,000 veterans at a cost of $2.6 billion dollars."
Jackson said the use of non-VA medical care is a "local VA Medical Center determination, which is made individually for each veteran and care plan." In general, Jackson said, non-VA medical care is used for a long list of reasons, including a patient's inability to access VA health care facilities; demand exceeds VA health care facility capacity; diagnostic support services for VA clinicians; the need for scarce specialty resources (e.g., obstetrics, hyperbaric, burn care, oncology); to ensure cost-effectiveness for VA; and to satisfy patient wait-time requirements.
In theory, the VA will pay for eligible veterans to go to non-VA providers when it's unable to provide timely care or specific treatments, or because the veteran lives far from a VA facility. But Miller said in a statement that the agency is not using fee-based care as often as it should. He called the program "a very simple tool at VA's disposal to help eliminate these delays and provide veterans care if the department doesn't have the capacity to do so in-house."
Obama's 2015 VA budget of $163.9 billion includes $68.3 billion in discretionary resources and $95.6 billion in mandatory funding. VA's discretionary budget request represents an increase of $2.0 billion, or 3 percent, over the 2014 enacted level. According to a statement on the agency's website, the 2015 budget "will help ensure that veterans, their families, and survivors receive the highest quality benefits and services we can provide and which they earned through their sacrifice and service to our nation."
FOR FREE to continue reading
✔️ Unlock the full content of International Business Times UK for free
offer available for a limited time only
✔️ Easily manage your Newsletters subscriptions and save your favourite articles
✔️ No payment method required
Already have an account? Log in
© Copyright IBTimes 2023. All rights reserved.