VA Problems Go Back Much Farther Than Expected; McCain And Others Call For Secretary To Resign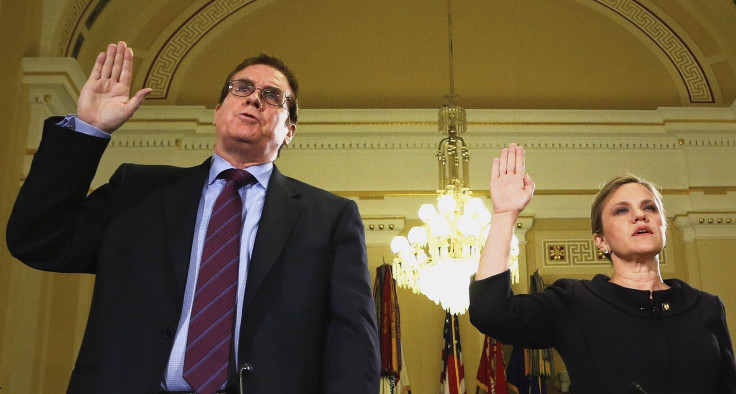 Does this sound familiar?
The General Accounting Office report --"VA Needs Better Data on Extent and Causes of Waiting Times" -- concluded that "although VA has begun to collect data systematically on waiting times for outpatient care, it has yet to develop reliable national waiting time data."
Those are the same charges being leveled against the Department of Veterans Affairs this spring. But that GAO report is from May 2000.
In response to growing concerns about negligence and possible coverups at VA facilities, the Office of Inspector General issued its preliminary findings on Wednesday. At the Phoenix VA facility, said the report, at least 1,700 veterans waiting for medical care were not scheduled for an appointment or even placed on a waiting list; it's unclear how many vets may have been "forgotten or lost" in the system. The IG report described a "systemic" practice of manipulating appointments and waiting lists at the Phoenix facility and said that scheduling practices are now being investigated at 42 VA facilities across the country.
Embattled VA Secretary Eric Shinseki called the findings "reprehensible" and ordered that the 1,700 veterans be immediately "triaged" for care. His reaction did not mollify outraged veterans nor stem calls for his resignation from Sen. John McCain, R-Ariz., Rep. Jeff Miller, R-Fla., chairman of the House Committee on Veterans Affairs, and others, including, for the first time Wednesday, four Democratic U.S. senators who are up for re-election this year.
At a contentious House hearing on Wednesday evening, Rep. Mike Michaud of Maine, the ranking Democrat on the Veterans Affairs Committee, reportedly asked Dr. Thomas Lynch, the VA's assistant deputy for clinical operations and management, who had authorized the destruction of the "secret list" that allegedly misrepresented waiting times at the Phoenix facility. Lynch said he wasn't sure.
Richard J. Griffin, the VA's acting inspector general, wrote in the report that "when sufficient credible evidence is identified supporting a potential violation of criminal and/or civil law, we have contacted and are coordinating our efforts with the Department of Justice."
The new report noted that since 2005, the IG has issued 18 reports that identified "deficiencies in scheduling resulting in lengthy waiting times and the negative impact on patient care."
"If you dug deep, you would undoubtedly find references to inappropriate scheduling activity and gaming the system at VA offices as far back as you want to track it," Jim Strickland told International Business Times. Strickland is a Vietnam-era veteran and advocate who runs VAwatchdog.org, which uncovered a document-shredding scandal at the Detroit VA in 2008.
Strickland said Detroit staff would take claims coming in the door from veterans, but "they would not process them. Instead, the claims were shredded. We found out about this because of a veteran whistleblower at that VA. It's the same kind of thing we are reading about now across the country. ... It's been going on at VA for years and years."
In addition to the 18 past reports from the IG, there are at least 30 from the GAO that point to chronic, systemic problems at the VA.
In its 2005 audit, the IG concluded that managers at VA hospitals were telling schedulers to create false wait times. The IG wrote, "Schedulers did not follow established procedures when selecting the type of appointment and when entering the desired appointment date into VistA. In some cases, supervisors instructed schedulers to create appointments contrary to established scheduling procedures."
In 2007, the IG said the VA had failed to address the issues it had cited in 2005 and that the accuracy of reported waiting times could still "not be relied on and the electronic waiting lists at those medical facilities were not complete."
A primary motivation for VA executives to manipulate wait times was to receive bonuses and advancements, which was true as far back as 2007, when the agency was caught in a related scandal. News reports of the bonus scandal broke around the same time the IG reports were published, and Veterans for Common Sense, a nonprofit advocacy organization, filed a landmark lawsuit against the VA and Shinseki.
The lawsuit complained of unreliable wait times, among other problems at the agency. Last year, the Supreme Court announced it would not hear arguments in the suit, and in May 2012, a federal appeals court in California voted 10–1 to dismiss the case, ruling that only Congress or the president has the authority to direct changes on how veterans are treated. The decision overturned a 2–1 ruling in 2011 by the same court which said the department's "unchecked incompetence has gone on long enough."
When the issues of long wait times became widely publicized at the time of the lawsuit, said Thomas Bandzul, legislative counsel for Veterans and Military Families for Progress and past associate counsel for Veterans for Common Sense, the VA "implemented a system of metrics to ensure proper scheduling took place. Once the system was in place, it didn't take long for the various offices to figure out how to game the system rather than do their job."
"It's safe to say this has a timeline going back to at least 2000," Bandzul said. "It's not something new."
More recently, a 2012 GAO report concluded that outpatient wait times for appointments at the VA remained "unreliable." Another 2012 IG report concluded that schedulers were "not following procedures" and as a result, reported waiting time data "was not accurate or reliable." In 2013 the GAO again found that outpatient medical appointment wait times were "unreliable."
This year, the GAO concluded, "Although access to timely medical appointments is critical to ensuring that veterans obtain needed medical care, problems with VHA's scheduling and management of outpatient medical appointments may contribute to delays in care, or care not being provided at all. Over the past few years there have been numerous reports of VAMCs [medical centers] failing to provide timely care to patients, including specialty care, and in some cases, the delays have resulted in harm to patients."
President Barack Obama's critics have hammered him for failing to fix the dysfunctional agency. But he joins a line of U.S. presidents going back to Calvin Coolidge who have struggled to reform the bureaucracy meant to care for those who served in America's armed forces.
The original Veterans Bureau was created in 1921 for World War I veterans and initially led by Col. Charles R. Forbes, who only two years later was convicted of entering into corrupt agreements with contractors, including some who were involved in hospital operations, and selling government property at a fraction of its value. In 1923, Forbes went to prison for the offenses.
After that inauspicious beginning, Gen. Frank T. Hines took over, but due to recurring problems the bureau was officially dissolved in 1930 and reconstituted as the Veterans Administration -- with Hines still at the helm. By 1932, the situation had improved little, and thousands of World War I veterans, the "Bonus Army," marched on the nation's capital to protest unpaid bonuses and poor health care. Hines survived in the job until 1945, when he was forced to resign over the poor care received by returning World War II vets.
A decade later, in 1955, a reform commission uncovered evidence of widespread waste and negligence, leading to other incremental efforts at reform. Afterward, the agency remained generally scandal-free until the 1970s, when problems returned with the influx of Vietnam War veterans. Those issues came to a head when Richard Nixon gave his GOP presidential nomination acceptance speech in 1972 and was interrupted by Vietnam veteran Ron Kovic, the subject of the book and movie, "Born on the Fourth of July." According to Kovic's biography, he called out, "I'm a Vietnam veteran. I gave America my all, and the leaders of this government threw me and others away to rot in their VA hospitals." In 1974, after a 19-day hunger strike by Kovic and other veterans, VA Secretary Donald Johnson resigned and Nixon launched an investigation into VA practices.
President George W. Bush pledged to clean up the agency, which was elevated to Cabinet department status in 1988, only to be inundated with new claims as a result of the wars in Iraq and Afghanistan.
"Veterans' claims are often poorly handled, and many veterans are not treated as well as they should be by the healthcare bureaucracy," Bush said at the swearing-in of Anthony Principi as secretary of VA. "Tony and his department will set new goals for better service." Principi was later implicated in an audit that found a California company he headed had overcharged the VA some $6 million under a long-term contract to conduct physical evaluations on veterans applying for disability benefits.
In 2007, presidential candidate Obama said the country had a moral duty to take care of its vets. In response to wait time issues, then-undersecretary for health Robert Petzel put in place measures that reduced waiting times from 30 days to 14 days in 2011. Those measures, he later conceded, were difficult to sustain, and may have inspired VA staff to "game the system" to make it appear that treatment was being given in a timely manner.
The current problems at VA are "neither new nor unusual," said Diane Zumatto, national legislative director of American Veterans (AMVETS), in an email to International Business Times.
"There can be no doubt the VA suffers from deep-seated, systemic problems and neither the department nor its employees believe that they are actually accountable to either the veterans they serve, or the American people who pay their generous salaries," said Zumatto, a veteran herself.
Zumatto described the agency as akin to "the mythical hydra," the multi-headed monster, and said that when problems arise, the solution is to "either throw money at it or chop it off. Before we know it, more problems pop up to take its place."
"Now is the time to slay the VA hydra by effectively changing its culture," she said.
But after all these years, the obvious question is: Why is VA so difficult to fix? The simplest answer is that it is a huge bureaucracy, subject to political influence and the needs of 300,000 employees, whose client base fluctuates dramatically according to the vagaries of war. The result is an agency with a $154 billion budget that in 2012 infamously spent $762,000 for a training conference in Orlando, Florida.
Among the proposed remedies, few point to a need for more funding. During the first two years of the Obama administration, the VA's budget was increased by $20 billion, and since then its problems have apparently worsened. The Senate Appropriations Committee has meanwhile approved a VA spending bill that would provide $5 million for the inspector general's investigation alone. Veterans advocate Bandzul does believe the agency needs more money -- especially to spend on automation. The Social Security Administration "spent an inordinate amount of money to turn an archaic system into something more modern. That investment was worth it," he said.
Responding to the interim IG report, House Chairman Miller released a statement calling upon Attorney General Eric Holder to launch a criminal investigation and for Shinseki, a retired general and former Army chief of staff, to resign.
Shinseki, he said, "is a good man who has served his country honorably, but he has failed to get VA's health care system in order despite repeated and frequent warnings from Congress, the Government Accountability Office and the IG. What's worse, to this day, Shinseki – in both word and deed – appears completely oblivious to the severity of the health care challenges facing the department. VA needs a leader who will take swift and decisive action to discipline employees responsible for mismanagement, negligence and corruption that harms veterans while taking bold steps to replace the department's culture of complacency with a climate of accountability. Sec. Shinseki has proven time and again he is not that leader. That's why it's time for him to go."
© Copyright IBTimes 2023. All rights reserved.