Vanuatu Cyclone Pam: Measles Vaccination Campaign Begins Amid Concerns Over Outbreak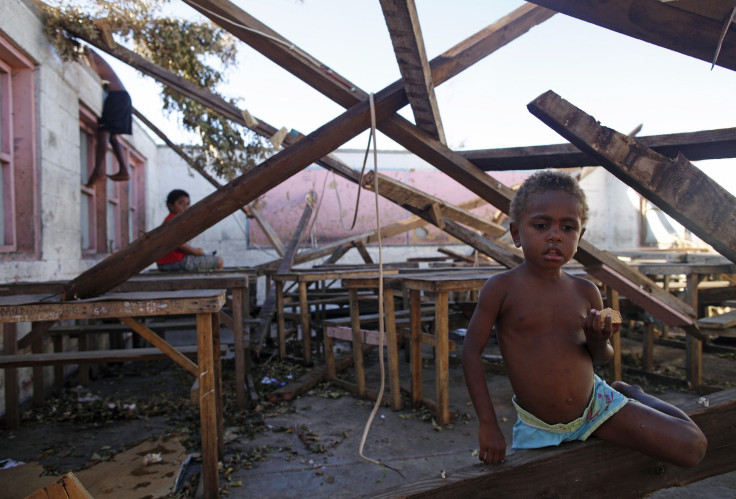 A measles vaccination campaign for children is underway in Vanuatu, the Pacific island nation hit Friday by Tropical Cyclone Pam, a Category 5 cyclone that left about 260,000 homeless and ravaged the country's infrastructure. The campaign began Wednesday morning and is being carried out by Vanuatu's Ministry of Health, aided by the United Nations children's agency, UNICEF, and the World Health Organization.
Vanuatu has low immunization rates and has been dealing with measles outbreaks since before the cyclone hit, most recently in early March. The storm wiped out schools, houses and health care facilities, Vanuatu President Baldwin Londsdale told the BBC, and UNICEF has said that such a storm and its aftermath leave children especially vulnerable to disease.
UNICEF announced Wednesday that it had deployed six teams to accessible parts of Port Vila, Vanuatu's capital, and would send out six more by the end of the week. In addition to vaccinating against measles, the teams would distribute Vitamin A, bed nets to help prevent malaria and basic health kits.
In November 2014, Vanuatu dealt with a measles outbreak that prompted an immunization effort aimed at 17,500 children. When immunization rates for measles were last measured in 2010, 52 percent of children aged 1 to 2 years in Vanuatu had been vaccinated, according to the World Bank.
The risk of a measles outbreak can be seen in other countries that have suffered outbreaks after natural disasters. In November 2013, Typhoon Yolanda hit the Philippines, killing thousands and devastating the country. In the first 10 weeks of 2014, the country's health department reported 15,600 cases of measles -- up from 5,863 in all of 2013. The surge in measles cases was attributed in part to mass migration following the storm.
Measles is a virus that can be deadly, but it can also be prevented through vaccination. It can be especially severe and dangerous for infants or people with weakened immune systems, the U.S. Centers for Disease Control says.
© Copyright IBTimes 2023. All rights reserved.