Venezuela Economic Crisis: No McDonald's Big Macs Amid Food Shortages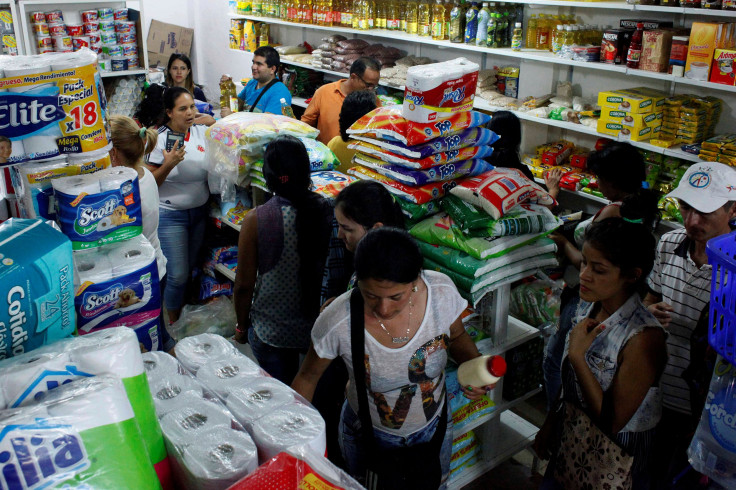 In another sign of Venezuela's worsening economic crisis, fast food giant McDonald's announced Thursday it will have to stop selling Big Macs because of an ongoing food shortage in the country and has found the classic burger missing a key ingredient: bread.
"McDonald's Venezuela is working to resolve this temporary situation," said Daniel Schleiniger of Arcos Dorados Holdings Inc., which operates the largest McDonald's franchise across Latin America and the Caribbean, Bloomberg reported Thursday. "Together with our supplier, we are evaluating the best options that will allow us to continue serving high quality food to our customers."
McDonald's cannot locally source the middle piece of bread needed for the burger. The company will continue to serve other items including the Quarter Pounder, CNN Money reported.
This isn't the first time a company has had to stop production of a product due to the deteriorating economic conditions in Venezuela. The country's largest brewer, Empresas Polar SA, announced at the end of April it would have to stop production because it did not have enough foreign currency reserves to purchase needed ingredients such as malted barley.
Venezuela has experienced food and product shortages amid ongoing protests for months. Over the weekend Venezuelans crossed over into Colombia when the border was temporarily reopened in order to buy basic necessities.
The crisis comes amid low global oil prices that have hit the country's economy hard. Coupled with years of spending on government programs and mismanagement of funds, the country is facing a mounting crisis. Venezuela's economy is expected to contract by 10 percent this year according to an estimate by the International Monetary Fund. Inflation could rise as high as 700 percent in 2016. The country's foreign reserves have fallen to less than $12 billion as it tries to pay down debts.
Amid the country's economic crisis a political one is brewing with opposition politicians trying to push out President Nicolas Maduro. Both parties have agreed to let the Vatican take part in mediation talks.
© Copyright IBTimes 2023. All rights reserved.
FOLLOW MORE IBT NEWS ON THE BELOW CHANNELS