Venezuela Elections 2015 Results: How And When To Find Out Which Candidates Won, Lost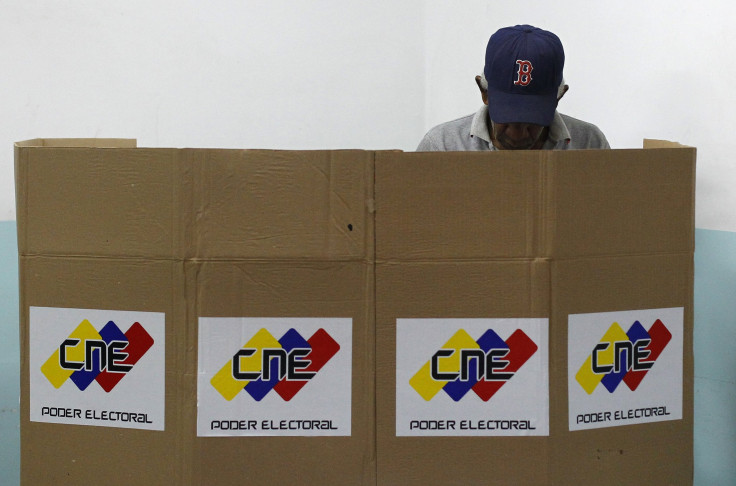 Venezuela is scheduled to hold parliamentary elections Sunday, with all 167 National Assembly seats up for grabs. Tension has built as citizens have grown concerned about the threat of violence, with Venezuela's Socialist government facing a potential defeat.
The vote will not end the left-wing rule of President Nicolás Maduro, who is not scheduled to go before the voters until 2018, but amid growing citizen discontent, the vote could be a landmark moment. An overwhelming 85 percent of Venezuelans are unhappy with the direction the country is heading, a Pew poll found. The country's petroleum-based economy has been hit especially hard and is projected to contract 10 percent as people struggle to meet basic needs.
In lead-up to the election, which has been marked by violence, Maduro has warned his party's Chavista candidates would win "by any means" and, more recently, that he "would take to the streets" if his candidates lost Sunday, Fox News Latino reported. An analysis of election-related tweets found that following expected words such as "Venezuela" or "election" the most prevalent words associated with Sunday's vote were "violence" and similar terms like "death" and "murder," Quartz reported. Recent polls suggested the opposition Democratic Unity alliance would win a majority of 90 to 99 seats in the 167-seat National Assembly, Fox News Latino said. Maduro's Socialist Party has not lost an election since it took power in 1999.
The voting is scheduled to begin Sunday. Elections in the country are carried out by the nonpartisan National Electoral Council. Polls will open during the day, and if past elections are an indicator, would be scheduled to close at 6 p.m. local time, or 10:30 p.m. EST. If voting lines are long, however, that time could be stretched significantly. It's not clear when the results will be available, as past turnaround times have ranged from just a few hours to much longer.
To follow along with the results, check in with the National Electoral Council here. For past Venezuelan elections Al Jazeera America has monitored in a live blog, check here for updates. The Americas blog, which is run by the Center for Economic and Policy Research in Washington, also typically runs a live blog for Venezuelan elections.
© Copyright IBTimes 2023. All rights reserved.