The Venezuelan Bolivar Is The Most Devalued Latin American Currency, Despite President Nicolas Maduro's Insistence That Economy Is Growing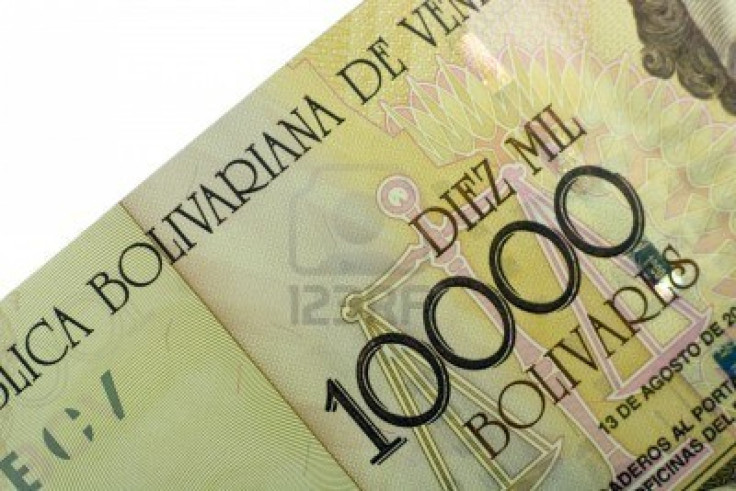 Venezuelan President Nicolás Maduro is facing several obstacles as he leads the Socialist, anti-American government of his oil-rich but troubled nation. But perhaps his most pressing problem is the weakness of what should be his biggest ally: the Venezuelan currency, the bolívar.
The currency has been recently crowned as the most devalued in Latin America, and third in the world, according to economic newspaper El Economista América. The bolívar has dropped 31.74 percent versus the U.S. dollar since the beginning of 2013, being traded at around 6.28 per $1 in early October.
The devaluation is a direct result of high inflation and budget deficits. The Venezuelan government last officially devalued the currency in February, its fifth devaluation in nine years. Since then, there have been rumors of a sixth, which the president denied vehemently in colorful language reminiscent of his predecessor, the late Hugo Chávez.
"The sources of this rumor are the stupid people in the corrupt, fascist right wing," said Maduro in a televised interview in June. "What is coming is the strengthening of Venezuela's currency, the strengthening of the economy."
Cuurency analysts disagree with him. Bloomberg reported that they predict a drop in the bolívar's value relative to the dollar, whether the government wanted to recognize it or not.
However, the bolívar's exchange rate has remained relatively steady since then. In the ranks of troubled currencies, it is followed closely by the Argentinean peso, which started the year with an exchange rate of 4.9 pesos per $1, but has dropped 18 percent since. The Brazilian real is third, with a drop of 17 percent since the beginning of the year.
Nevertheless, when compared with other regions, Latin America fares decently when it comes to currency values versus the dollar. The most hard-hit currency is the Iranian rial, which fell 40.48 percent, followed by the Syrian pound, which dropped 48.26 percent versus the dollar -- but one is the currency of a country under crippling economic sanctions, and the other of a country plunged into a devastating civil war.
On the other side of the spectrum, the biggest gain was by the Somali shilling, which increased 28.34 percent. The Seychelles rupee came in second, growing 9.15 percent, followed by the Icelandic krone, up 5.57 percent versus the dollar.
© Copyright IBTimes 2023. All rights reserved.