Venezuelan Murder Rate to Set Record This Year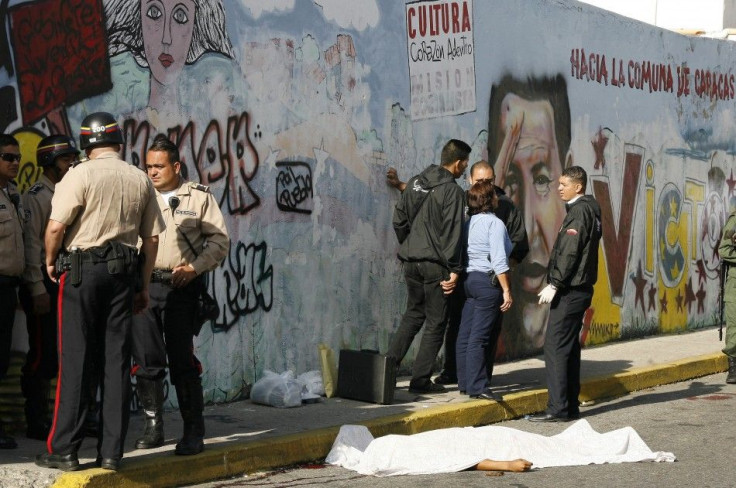 Venezuela is on pace to set a new record for murders this year.
According to The Venezuela Violence Observatory (OVV), at least 19,336 people have been murdered in 2011, or an average of more than two every hour, or about 53 every day.
At that rate, Venezuela has one of the highest homicide rates in the world – the frequency of killings in the country is four times the magnitude of murderous violence in drug-plagued Mexico and double the rate in neighboring Colombia.
Indeed, the murder rate in Venezuela – 67 per every 100,000 residents --- compares with a figure of 32 in Colombia and 14 in Mexico.
The global average is 6.9 murders per 100,000 inhabitants.
We must inform the nation that 2011 will end as the most violent year in the nation's history, OVV said in a statement.
The OVV's estimate is somewhat higher than the government's data of 48 killings per 100,000 inhabitants.
The factors behind Venezuela's extraordinarily high murder rate are complex -- OVV suggested part of the widespread bloodshed has to do with high levels of gun ownership and the fact that most killings go unpunished. Robbery and kidnapping incidents have also been climbing.
Nonetheless, the homicide rate has skyrocketed since President Hugo Chavez – who is seeking re-election next year – took office in 1999. In that year, there were 4,550 officially recorded murders (about one-fourth of the tally from 2011).
Sensitive to the perception that lawlessness has spiraled out of control during his term in office, last month Chavez formed a new armed organization -- the People's Guard -- to tackle crime. The government deployed thousands of troops in Caracas and other high-crime locales to support local police.
© Copyright IBTimes 2023. All rights reserved.