VIDEO Kentucky Defeat Arkansas: Wildcats Earn No. 1 Seed In 2015 NCAA College Basketball Tournament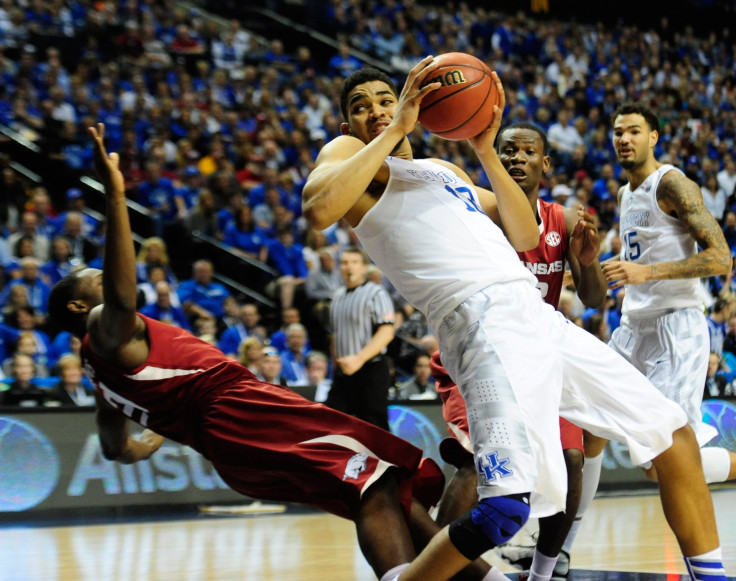 Finishing off their dream season a perfect 34-0, the top-ranked Kentucky Wildcats are a lock for the No. 1 overall seed in the NCAA Tournament and will be looking to make a historic run to an undefeated championship season. Kentucky finished the season with a 78-63 win over No. 21 Arkansas to end the season 34-0 and win the SEC Tournament Championship at the Bridgestone Arena in Nashville, Tennessee.
The SEC tournament win was the first for the Wildcats since 2011 and the 28th in the school's history. Kentucky will now shift their focus to the NCAA Tournament. The Wildcats last won the national championship in 2012. Kentucky could be on a mission after a tough loss in 2014. Connecticut defeated Kentucky in the championship game, just missing out on adding a ninth title to the storied program's history.
Kentucky was simply too much for Arkansas to handle in the SEC championship game. Head coach John Calipari's squad was able to dominate the post with forwards Willie Cauley-Stein and Karl-Anthony Towns. Arkansas kept the game close during stretches, but the Wildcat defense led by Cauley-Stein and Towns clamped down to the end the first half with a long run that put the game seemingly out of reach for the Razorbacks.
Arkansas would not go down without a fight however and the team battled in the second half. Despite providing scares at times, Kentucky was able to hold a double-digit lead for most of the second half. The game was close enough to be competitive but not so close that anyone in blue felt real nerves.
Calipari's squad has been playing even better than usual in recent games. The last time the Cats were tested was on Feb. 10 when LSU provided a scare before Kentucky prevailed, 71-69.
The Wildcats will begin the tournament as the clear favorites and the No. 1 overall seed. They have broken the school's 60-year-old record for consecutive wins, won the SEC, and have beaten six ranked teams throughout the year. Virginia, Duke, Arizona, Wiconsin and Villanova are expected to be the most daunting test for the Wildcats in the tournament.
© Copyright IBTimes 2023. All rights reserved.