[VIDEO] Piermario Morosini: 25-year-old Italian Soccer Player Dies During a Game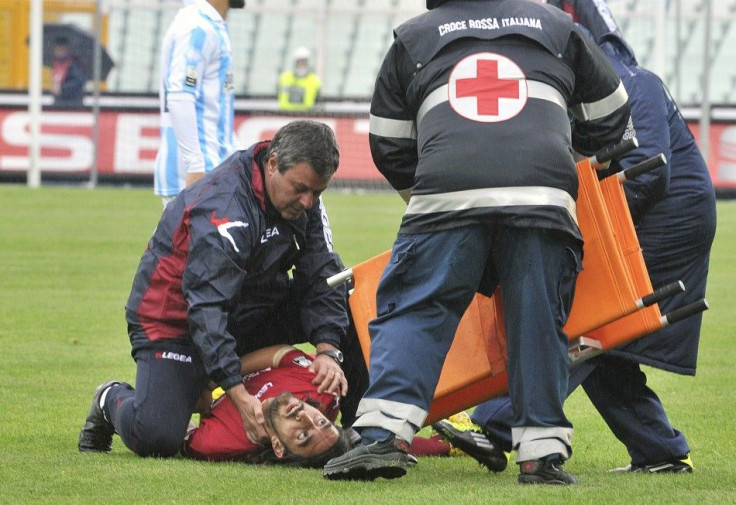 A 25-year-old soccer player, Piermario Morosini, collapsed and died of a heart attack during a game between his Livorno side and Pescara as part of Italy's Serie B.
In a terrifying scene that is was eerily reminiscent of Fabrice Muamba's collapse in England four weeks ago to the day. Morosini went down in the middle of the pitch and was immediately unresponsive, rescue workers attended him on scene and he was taken to a local hospital but the doctors were able to revive him and he was pronounced dead.
Edoardo De Blasio, a cardiologist at Pescara's Santo Spirito hospital, confirmed the death, saying unfortunately he was already dead when he arrived at hospital. He didn't regain consciousness.
All games in Italy were suspended immediately and will likely be postponed for several days as the Italian soccer community mourns for Morosini.
Morosini was on load with Livorno from Serie A side Udinese as he was getting experience in hopes of joining the Udinese team full time. He fell to the ground in the 31st minute of the game. He tried once to get up, but was unsuccessful.
Emergency crews used a defibrillator on him on the field, and he had regained consciousness when he was loaded into the ambulance but had lapsed again by the time he arrived at the hospital.
There are reports that another emergency vehicle was parked at the entrance to the field and blocked the ambulances way onto the pitch for a period of time before the window of the car was broken to allow it to be moved.
I don't know if the ambulance was late, but I know that the entrance onto the pitch was blocked by a vehicle, Pescara's general manager Danilo Iannascoli said. Morosini collapsed, he tried to get back up but then collapsed again.
Livorno was leading 2-0 when the match was abandoned. All matches for the duration of the weekend have been cancelled in Italy and no dates are set for makeups as of now.
© Copyright IBTimes 2022. All rights reserved.
FOLLOW MORE IBT NEWS ON THE BELOW CHANNELS