VIDEO Ronda Rousey Defeats Cat Zingano: Highlights From The UFC Fight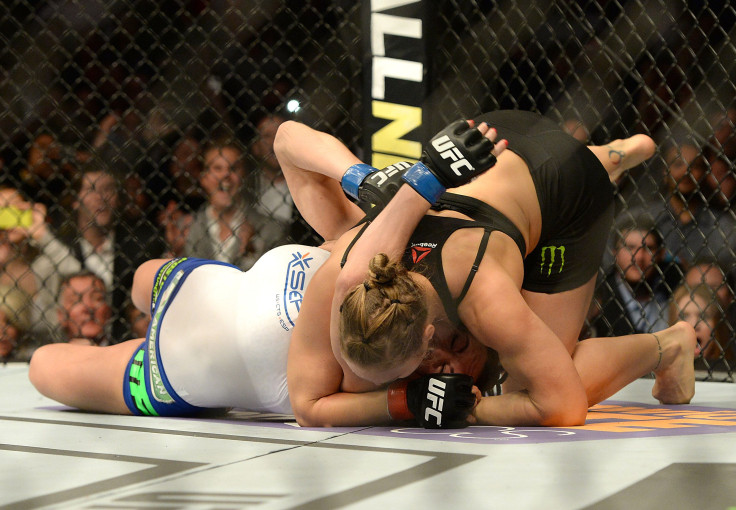 Bantamweight champion Ronda Rousey (11-0) won in a familiar fashion against rival Cat Zingano (9-1) in Saturday night's UFC 184 bout at Staples Center in Los Angeles. Rousey dispatched Zingano in the first round with an armhold just 14 seconds into the fight.
Rousey's last three title defenses haven taken just 66, 16 and 14 seconds. In Rousey's undefeated career just one fight has made it past the first round. Her headlining bout was more anticlimactic than anything. Zingano was thought of as perhaps her toughest 135-pound competition, yet "Rowdy" had no trouble with her. Rousey turned an opening attack from "Alpha" into an easy win. Zingano rushed in with a jumping knee which Rousey countered, throwing Zingano to the floor of the octagon. After Rousey had secured an armlock, Zingano immediately tapped out, ending the fight in just 14 seconds. Watch the video of the quick tapout below:
Vine via XFINITY Sports.
Rousey admitted that she was expecting the move from Zingano. Clearly the champion was prepared for the flying knee.
"We were actually suspecting she might do something flying at me right away," Rousey said to reporters after the fight. "I've actually been working on that behind arm armbar. Not from that angle, but hey, it works."
In the lead up to the fight, Zingano was largely considered Rousey's toughest opposition to date. Rousey might have to keep looking for worthy a worthy challenger. Her next opponent, however, is still undetermined. Some options include up-and-comers Holly Holm (8-0) and Bethe Correia (9-0). Holm is a former world champion boxer and won her debut UFC event on Saturday before Rousey's bout. The champ's immediate move is most likely to take a short break from fighting for a stint on the big screen.
"We had a deal that she was going to go do a movie after this fight," UFC President Dana White said in a post-fight press conference. "So when she's done with her movie, we will talk."
The 28-year-old has acted for major films the Expendables 3, Fast and Furious 7 and Entourage in the past couple of years, according to Yahoo!
Whenever Rousey returns to fight again, her opponent will likely need to be prepared for a tough matchup. The champion doesn't look like she is slowing down, if anything, Rousey appears to be improving. Her win on Saturday night was the fastest defense in a title fight in UFC history.
© Copyright IBTimes 2023. All rights reserved.