Video Shows Shanghai Tesla Gigafactory 3 Is Almost Complete, 'Sci-Fi' Projects Still Possible
The construction of Tesla's Gigafactory 3 in Shanghai is a bright spot in an otherwise muddled financial picture where analysts are increasingly calling into question Elon Musk's approach to generating growth by investing in cars, rockets, tunnels, life insurance, robotaxis, and other "sci-fi projects" simultaneously.
New video and images out of Shanghai show exterior construction of the massive Gigafactory 3 building in its final stages. Sources cited by media said only a few small sections of the factory's general assembly building remain unroofed. Walls have still to emplaced as can be seen in the images. Work inside the building has apparently begun.
Also being built are dormitories for employees and what might be an open-air event staging area. Shanghai city officials are confident Gigafactory 3's initial construction will be completed by the end of this month. Tesla electric vehicles (EVs) and electric battery packs will be produced at Gigafactory 3.
Sources said the rapid construction pace at Gigafactory 3's is unprecedented. Groundbreaking for this factory, which was attended by Tesla CEO Elon Musk, took place only last January.
Construction began in earnest a week later. Gigafactory 3 is located on an 864,885 square meter chunk of land in Shanghai's Lingang Industrial Zone. Construction of the facility has proceeded at an extremely rapid pace since the groundbreaking.
Gigafactory 3 is being built by China Construction Third Engineering Bureau Co., Ltd, which is a subsidiary of state-owned China State Construction Engineering Corporation (CSCEC), the largest construction company in the world by revenue.
Tesla intends to start the production of its affordable Model 3 in the factory by the end of the year.
Tesla continues to struggle, however. Financial services and investment firm Wedbush Securities Inc. cut its price target on Tesla shares to $230 from $275 on Monday. Wedbush cited "major concerns" about the growth plan for Tesla, as well as U.S. demand for the key Model 3. It has a neutral rating on Tesla.
"With a code red situation at Tesla, Musk & Co. are expanding into insurance, robotaxis, and other sci-fi projects/endeavors when the company instead should be laser focused on shoring up core demand for Model 3 and simplifying its business model and expense structure in our opinion with headwinds abound," said Wedbush analyst Daniel Ives in a note to investors.
Ives believes Tesla's ability to attain its end-of-the-year production forecast is "a Herculean task." Tesla has said it will produce from 360,000 to 400,000 vehicles by year-end.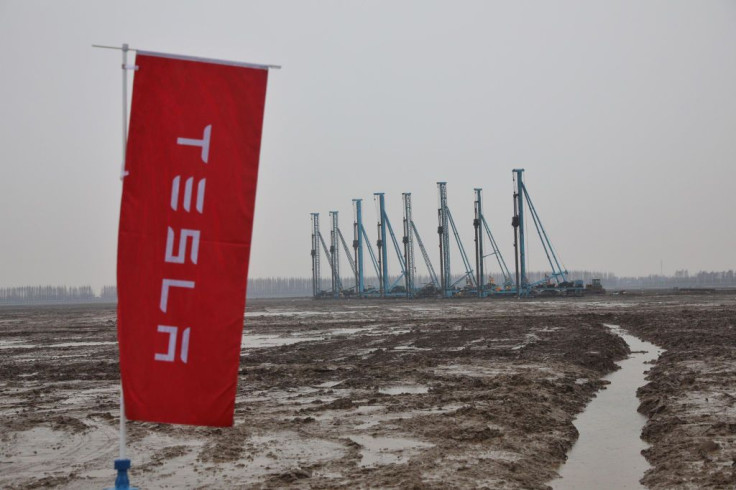 On the other hand, Ives estimates a "best case scenario" of 360,000 to 370,000 vehicles, but 340,000 to 355,000 is the more "likely path given the current tea leaves in the field around demand."
"Tesla is facing a quagmire as the company is in the midst of building out its next flagship factory in Shanghai with Giga 3, in the early stages of tooling/blueprinting its next Model Y for production slated for 2020, and ramping production of its mid-range and base Model 3 in the U.S., all while facing a growing cash crunch and high expense structure issue," said Ives.
However, with the construction of the Shanghai Gigafactory 3 on schedule, it wouldn't be impossible for Tesla to accomplish its goals. Supporters have noted that the company has been breaking barriers, and these "sci-fi" projects could be just another hurdle to overcome. As Teslarati noted, Musk's "ideas, his visions, are not implausible."
© Copyright IBTimes 2022. All rights reserved.
FOLLOW MORE IBT NEWS ON THE BELOW CHANNELS