VIDEO US Open Men's Final 2015 Highlights: Novak Djokovic Beats Roger Federer To Claim 10th Grand Slam Title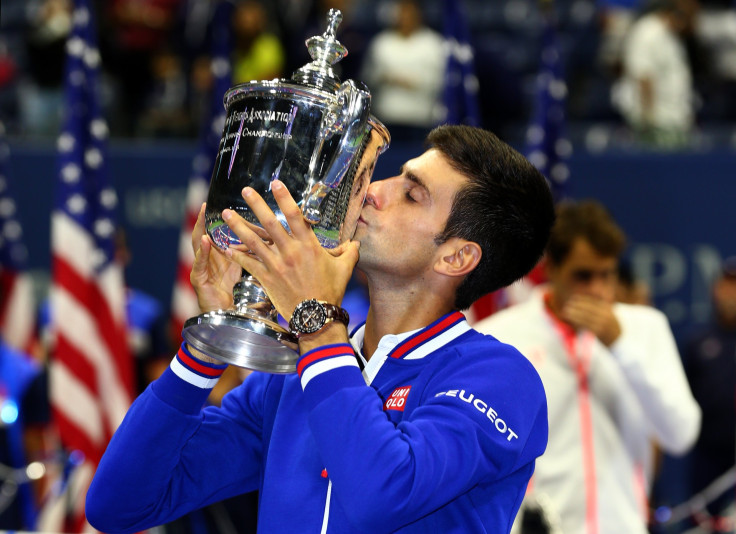 Novak Djokovic claimed his 10th Grand Slam title and second U.S. Open crown after crushing the hopes of Roger Federer in four thrilling, tension-filled sets in Sunday's final in Flushing Meadows. The world No. 1, only the third man in history to compete in the finals of all four Grand Slams in a single season, and the first since Federer six years ago, prevailed 6-4, 5-7, 6-4, 6-4 in three hours and 20 minutes to take his third major title of the year and repeat his success over the Swiss at Wimbledon.
Indeed, it was the third time in the last 15 months that Djokovic has denied 34-year-old Federer an 18th Grand Slam title. And while Federer was again prevented from adding to his legacy, Djokovic increased his yet further. Having now reached double figures in Grand Slam titles, he moves into seventh place on the all-time list, level with American Bill Tilden and now just one behind Swedish great Bjorn Borg.
And as Djokovic is still very much at his peak at 28, this latest victory means the thought of catching Federer will surely grow ever greater in his mind. Despite having long struggled for recognition in the shadows of two greats -- Federer and Rafael Nadal -- it would be foolish to write him off.
"It's been an incredible season, next to 2011 probably the best season of my life," Djokovic said in his on-court interview after clinching victory. "But I'm enjoying this year more than any previous one because I'm a husband and a father and this makes it even sweeter. I love this sport, if we didn't have a lot of passion for this sport we wouldn't be here, so all these results and achievements are motivations for me to keep on going."
Certainly, considering the form he showed for much of Sunday's final, it is hard to see anyone stopping him anytime soon. After rain delayed the start of the eagerly anticipated final between the top two seeds for more than three hours, both struggled with the cooler, breezier evening conditions, seemingly as well as the momentousness of the occasion. But it was Djokovic, despite suffering a nasty fall to temporarily derail his charge, who dealt with both better.
Federer, yet to drop a set in New York as he gave himself another chance to add to his record 17 Grand Slam titles, had lost serve just twice through to the final. Yet Djokovic showed why he may well be the greatest returner in history to match that tally of breaks in just the opening set to strike first.
While some tightness was still in evidence, both players, and Federer in particular, upped their level in a second set of incredible drama. Utilizing the ultra-aggressive tactics and so-called "SABR" sneak-return ploy that have reinvigorated his game through a hugely successful summer and a victory over Djokovic in the final of Cincinnati last month, Federer was throwing everything he had at Djokovic. For a long time, the Serbian, battling the greatest player of all time and a crowd of more than 23,000 roaring in favor of his opponent, showed incredible resolve to hold firm. But with his fourth set point, Federer pounced with a stunning backhand crosscourt to level the match and let his full emotions show.
It was a set Federer surely had to win to remain in with a realistic chance of prevailing. Yet he had won a similarly dramatic second set to level the Wimbledon final, only to experience a letdown as Djokovic stormed away to take the next two and the match. History would repeat itself, but only after a series of twists and turns that kept everyone on edge. Djokovic broke early, but, in a rollercoaster of a set, Federer struck back and was twice a point away from having an opportunity to serve to move within a set of victory. Djokovic, though, would not crack, and when Federer faltered he was right there to take advantage.
It will be Federer's inability to convert on break points that will be most prominent in his mind when he reflects on his latest missed opportunity for N0. 18. In total he took just four out of the 23 in front of him, including two more that came and went before Djokovic closed within a set of victory with his first set point. It proved the match's defining moment.
Striving to become the oldest U.S. Open winner in 45 years, Federer's momentum had run flat against the unwavering hitting from the back of the court of the best player in the world. A break in the very first game of the fourth set delivered another blow from which Federer was always unlikely to recover, despite the increasingly desperate urgings of the vast majority of those watching on. Djokovic broke again to leave him serving for the match at 5-2. While Federer produced one last hurrah to get one break back and bring up three chances to improbably level the set, Djokovic would not be deterred and clinched victory as a Federer return drifted long.
© Copyright IBTimes 2022. All rights reserved.
FOLLOW MORE IBT NEWS ON THE BELOW CHANNELS