Volkswagen Scandal To Dampen Demand For Diesel Cars As 'Clean Diesel' Image Threatened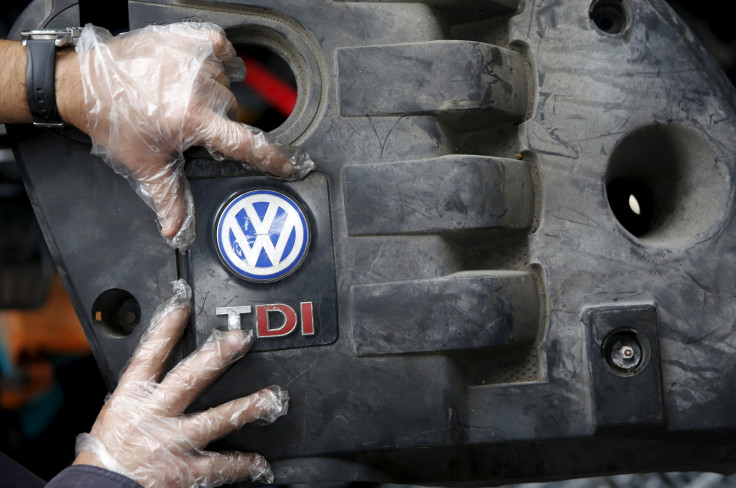 American consumers were slowly warming up to diesel-powered cars and light-duty trucks — and then came the Volkswagen emissions cheating scandal. VW's vehicles promised better fuel efficiency and peppier driving than prevailing gasoline engines, sparking drivers' interest in what the company claimed were "clean diesel" cars.
Now the scandal is threatening to reverse the trend as drivers link diesel to dirty air pollution, experts said this week. Volkswagen admitted to installing software that can cheat emissions tests into 11 million of its diesel vehicles worldwide, enabling the cars to spew as much as 40 times the U.S. legal limit of pollutants, according to the U.S. Environmental Protection Agency.
"It certainly tarnishes the image of diesel cars," said Daniel Sperling, founder of the Institute of Transportation Studies at the University of California, Davis, and a member of the California Air Resources Board, the regulatory agency that helped uncover Volkswagen's cheating. "Diesel had an improving situation [in U.S. markets], and this will definitely slow that down."
The effect on the overall U.S. auto market will be marginal. Although diesel dominates in U.S. heavy-duty trucks and commercial vehicles, diesel passenger cars still account for only a sliver -- about 1.3 percent -- of total U.S. car sales.
Analysts for LMC Automotive said they now project diesel cars and trucks will account for 3.3 percent of sales in 2015, down from an earlier projection of 3.4 percent. The market will continue to slide at half a point lower than LMC's initial projections, down to 3.5 percent in 2016 and 3.9 percent in 2017, according to a Sept. 24 client noted provided by email. Most of the lost market share will be due to suspended sales of the four Volkswagen models and one Audi model implicated in the EPA investigation, according to the note.
Jeff Schuster, senior vice president of forecasting for LMC in Detroit, said it's still too early to predict the full fallout from the Volkswagen debacle. "It could be anything from a minor disruption in diesel to something more catastrophic, which would be the severe decline in diesel passenger cars," he said. A key determining factor will be how Volkswagen handles the recall and retrofitting of millions of diesel cars, and whether those fixes affect the fuel economy and performance of its cars, Schuster said. "From our perspective, it doesn't impact the truck side of the market," he added.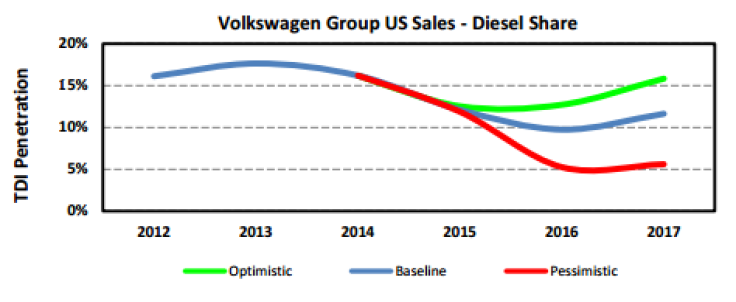 Volkswagen and other automakers such as BMW and Ford Motor Co. marketed their diesel models as environmentally friendlier alternatives to conventional gas cars. In recent decades, upgraded engine and fuel technologies have replaced the clunky, smelly, soot-spewing diesel systems. Newer diesel engines are roughly 20 percent more fuel efficient than gas cars and emit about 20 percent fewer carbon dioxide emissions, Sperling said.
Without proper emissions controls, diesel engines emit several times more nitrogen oxides than do gasoline engines. But in engines that do filter emissions, levels are similar to those of gasoline. Nitrogen oxide contributes to ozone pollution, which can cause lung-related illnesses such as asthma and bronchitis.
"Clean diesel is a reality," Sperling said, noting that other automakers with diesel cars have not been found to be violating EPA emissions standards. "It's remarkable what the engineers have done in making diesel much cleaner. The Volkswagen case is so far the exception."
Still, the scandal surrounding Volkswagen's diesel cars is likely to create confusion among U.S. car buyers and push them toward gas-powered models or other alternative engines. William Becker, executive director of the National Association of Clean Air Agencies in Washington, said he is worried Volkswagen's admission to tricking EPA tests will signal to consumers that diesel is simply too dirty to ever make clean.
"Volkswagen's cheating was not done because they were having difficulty meeting the technology standards required of them," Becker said. "That technology is available, it's cost effective and it's been employed on other vehicles. Their cheating is based entirely on their wanting to reduce costs, improve performance and create a competitive advantage over other manufacturers."
The fallout of Volkswagen's cheating admission will likely be larger in Europe than the United States. More than half the cars on European roads have diesel engines, which are cheaper to fuel and maintain than gasoline alternatives.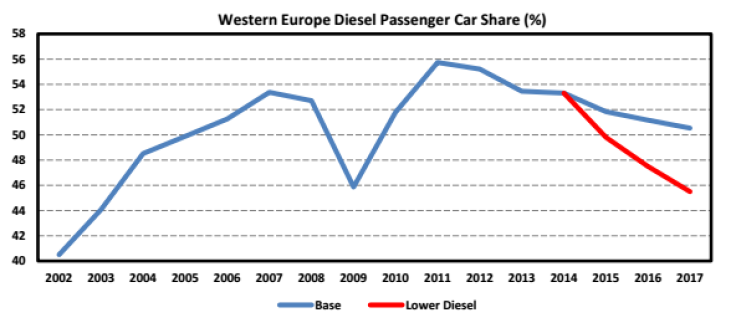 But European air quality standards are less stringent than in the U.S., a problem made increasingly evident by smog-choked days in the region's largest cities. At one point in the past two years, Paris registered higher levels of nitrogen oxides than Beijing, a city notoriously shrouded in thick gray clouds.
Analysts at LMC Automotive said the Volkswagen scandal in the U.S. might prompt a decline in European diesel car sales as "drivers sense that they may be victims of this dishonesty, rather than observers from afar," they wrote in the client note. "This would force diesel share downwards as consumer choice in the low-carbon vehicle arena widens."
In France, air pollution from diesel cars is prompting some officials to call for tougher environmental standards, the Associated Press reported Sunday. "We must stop lying to the French by inciting them to buy so-called environmentally friendly cars," Emmanuelle Cosse, head of France's green party Europe Ecologie - Les Verts, said. "Clean diesel doesn't exist."
© Copyright IBTimes 2023. All rights reserved.