Voting Rights Act 2015: HBCU Students Mark 50th Anniversary In Ferguson Voter Registration Drive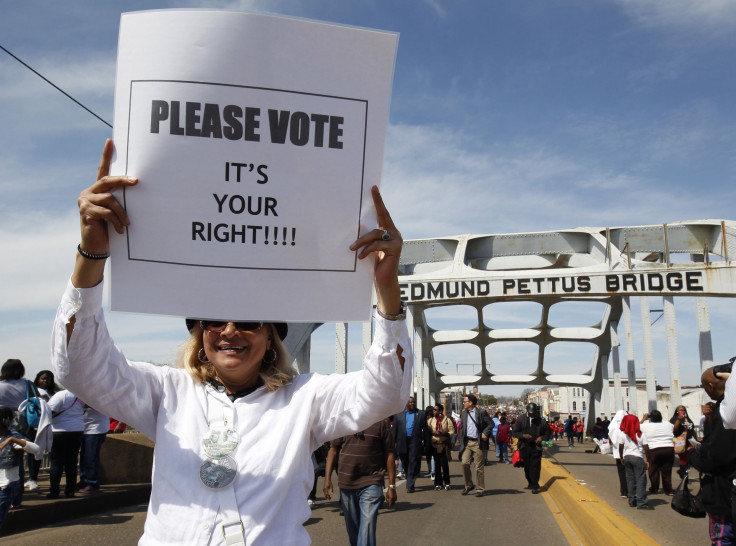 It would not have taken much convincing to get Blake Stoner on an NAACP-chartered bus bound for the Midwest this weekend. He's the grandson of one of the many white Freedom Riders -- civil-rights activists who, in the early 1960s, risked their lives by boarding interstate buses with African-Americans to protest racial segregation and register voters in southern U.S. states.
Stoner's grandfather often retold the story of missing a trip that other activists took, during which two Freedom Riders were killed in an attack. "My grandfather could have been there, and then maybe I wouldn't be here," said the 20-year-old native of Jackson, Mississippi.
A sophomore attending Morehouse College, Stoner and more than 50 students from historically black colleges and universities in Atlanta aren't fighting Jim Crow-era racism. But he and his peers are registering voters in Ferguson, Missouri, where the white police Officer Darren Wilson's killing of the unarmed black teenager Michael Brown in August set off nationwide protests and calls for an examination of unfair and overly aggressive policing in minority communities.
"It just seemed right," Stoner said of his decision to volunteer to push for change through civic engagement. "Especially after the whole Mike Brown thing, it's just the time to work. It's really that simple. You can't drop the ball now."
The students and chaperones from the Atlanta branch of the National Association for the Advancement of Colored People, which sponsored the trip, planned to canvass Ferguson neighborhoods Sunday to collect completed voter-registration forms and secure follow-up contact information in advance of municipal elections April 7. The students said they are giving up a portion of their spring-break vacations to make the trip. Each of them volunteered before this week's release of a searing report of a U.S. Justice Department investigation, which revealed stories of racial discrimination and unconstitutional treatment of Ferguson's African-American residents by their elected officials and by the majority-white law-enforcement agency that those officials oversee.
As students rode the bus between Georgia and Missouri Saturday, thousands of Americans joined U.S. President Barack Obama and other leaders in Selma, Alabama, to mark the 50th anniversary of the civil-rights marches to the state's capital in Montgomery. In 1965, marchers were attacked and badly injured by state police, on a day nicknamed Bloody Sunday, as they pushed for a ban on race-based barriers that kept most African-Americans in the South unregistered to vote and voiceless in choosing their elected officials.
Many civil-rights activists planned events around the Selma commemoration. Sunday, a group called Students Unite planned to march across the Edmund Pettus Bridge, the site of the worst police violence associated with Bloody Sunday, bearing a petition for state lawmakers urging a name change for the bridge. Pettus, a former U.S. senator in Alabama, was also a grand dragon of the Alabama Ku Klux Klan.
The timing of the Atlanta students' trip to Ferguson was deliberate, said Richard Rose, president of the Atlanta branch of the NAACP. "The march from Selma to Montgomery came after months of groundwork, just like what we'll be doing," Rose said in an interview this week. "All of the publicity of Mike Brown, of Tamir Rice, of Trayvon Martin, and Eric Garner" -- only a few of the many black men and boys killed by police in recent years -- "made them aware that something had to be done. You have to give them credit for that. They are just taking their place in the struggle."
Rose said the students' activity is not about politics, although it could potentially have an impact on the municipal elections that are less than a month away in Ferguson. Fewer than one-half of registered voters there turned out for November's election, according to the St. Louis County Board of Elections. Just 10,222 ballots were cast by 24,334 registered voters, the certified results of the last election show.
During his speech at the foot of the Edmund Pettus Bridge Saturday, Obama took Americans to task for historically low voter turnouts. "If every new voter-suppression law was struck down today, we'd still have one of the lowest voting rates among free peoples," he said. "What is our excuse today for not voting? How do we so casually discard the right for which so many fought? How do we so fully give away our power, our voice, in shaping America's future?"
Ferguson, a suburb of St. Louis, has a population of more than 21,000. Two-thirds of its residents are African-American. Residents elect a mayor and six people to serve on the city council. The council appoints a city manager, a person who manages and oversees the local police department. There is currently one African-American member of the council -- and four African-American police officers on a force of 54.
Racial bias and willful discrimination against the majority black community had been widespread among some city officials and many police officers, according to the Justice Department's report. Between July 2010 and June 2014, Ferguson officers issued about 90,000 citations and summonses for municipal violations. African-Americans accounted for 85 percent of drivers in police traffic stops, 90 percent of traffic-ticket recipients and 93 percent of those arrested. Those figures also were driven by a scheme to raise several millions of dollars in city revenue through the collection of municipal fines and court fees, the department found.
Calling the Ferguson experience just one example of similar ones in other African-American communities around the country, Rose said he believes the town's black community hasn't realized that greater representation in the local government and police force might aid in changing the status quo. "Ferguson couldn't happen in Atlanta because [African-Americans] have political power," Rose said. "This is a political country, and we have to have political power."
Jannelle Stricklen, a 21-year-old senior at Clark Atlanta University, said she was making the trip because talking about the importance of civic engagement comes easily to her. A native of Detroit, Stricklen has helped register voters and has volunteered as a poll worker in previous local elections. "When you vote, how you vote and that you vote every time is very important," she said. "When people voted for Barack Obama, they could say, 'I did that.'"
If she encounters anyone Sunday who isn't easily convinced that he or she should be engaged politically, Stricklen knows what her pitch will be: "These decisions were made by the people that are in office," she said. "The best way to get justice is to get them out of office."
© Copyright IBTimes 2023. All rights reserved.