Warriors News: Recovering Ace Shooter Doing Everything In Preparation For New NBA Season
KEY POINTS
Klay Thompson is putting in the extra work to be ready next season
Steve Kerr is awed by Thompson's shooting during their most recent practice
The Warriors are expected to be a threat again once Thompson returns
After two years of sitting on the sidelines, the Golden State Warriors are hoping that Klay Thompson will finally be back for good.
Being out for two NBA seasons, it is understandable that Thompson will need time to get back his old groove.
Regardless, Warriors coach Steve Kerr is just happy to see his prized All-Star back, ESPN reported.
"Klay looked great," Kerr said after the team's first practice on Tuesday, September 28. "Shooting the lights out. His team won the daily shooting competition. And he was smiling, laughing, joking around, it was really fun to see the old Klay back."
There is no telling when Kerr and company will call the California native back into action although mid-season could be a safe call.
Hence, the best the Warriors can do for now is hope that Steph Curry and Draymond Green can hold up the fort.
Andrew Wiggins is around, but the former NBA top pick is embroiled in a controversial COVID-19 vaccination row.
If the 2015 NBA Rookie of the Year fails to get a jab, he is likely to miss the Warriors' home games–yet more worries for Kerr.
Sports author Roland Lazenby shared how Thompson's return would be beneficial to Golden State's performance for the coming NBA season when he spoke on the Sports Bytes PH podcast with sports journalist Brian Yalung.
"No, you can't [discount the Warriors]. It will be interesting. The modern NBA players when it comes to admiration, it's easy to admire those guys. And it's easy to admire Klay Thompson," Lazenby stated.
"You know, I try to be this passionate observer. But it's really hard not to root for a guy like Klay Thompson. He does it all the right way. He comes from a family that does it the right way. So we'll see. And Steve Kerr, he is one of the best guys."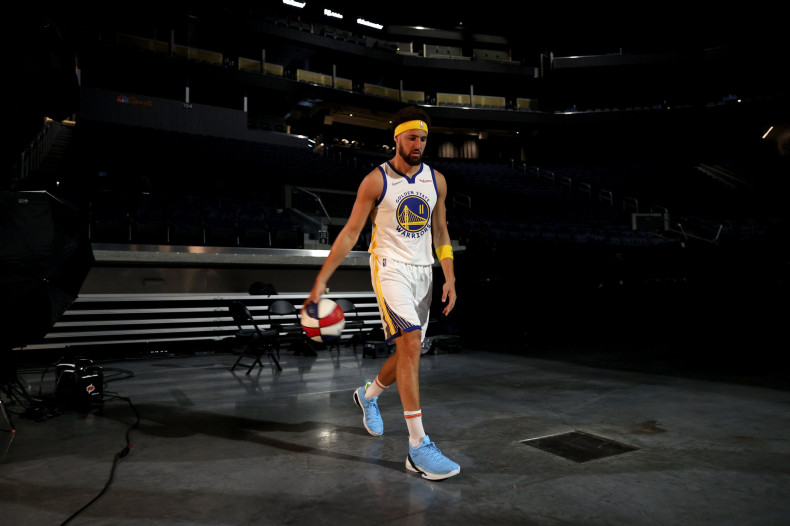 © Copyright IBTimes 2022. All rights reserved.