Warriors News: Steve Kerr Reveals Stephen Curry's 'Secrets To Success'
KEY POINTS
The Golden State Warriors are off to a remarkable start this season
Coach Steve Kerr has a logical explanation for Stephen Curry's impressive form
Curry is sitll one of the best scorers in the NBA
After years of working with Stephen Curry, Golden State Warriors head coach Steve Kerr has learned a lot about his star point guard.
Curry is now in his thirteenth year with the Warriors, eight under the tutelage of Kerr.
Apparently, the said stint was enough for them to know each other in and outside the basketball court.
As it stands, Curry has won three NBA championships alongside Kerr and is off to a great start once again this season.
Some may have been wondering how he manages to maintain his exceptional form after years of enduring exhausting seasons in the league.
Evidently, one of the persons who possibly have the answer to it is Kerr.
Speaking recently to 95.7 The Game's "Damon & Ratto," the renowned coach talked about the Warriors' impressive start this season, particularly Damion Lee and Curry.
When discussing how Lee, who is the husband of Stephen's younger sister Sydel Curry-Lee, bounced back healthier and stronger this year, Kerr said that the "great things" happening in the player's personal life certainly reflect inside the court.
Kerr then explained that the same thing applies to Curry, and that has been the two-time NBA scoring champ's "secrets to success."
"They are directly related, there's no question," Kerr said of life in and outside basketball. "I've long felt that's one of Steph [Curry's] secrets to his success, he loves his life. He loves his family, he loves his hobbies, his daily existence on the Earth, he just enjoys it so much."
"He's got so much going for him that it makes everything smoother and more fun for him on the court," he continued. "I think that's true for everybody. If you can get things in order and you're in a comfortable place, you're going to have more success."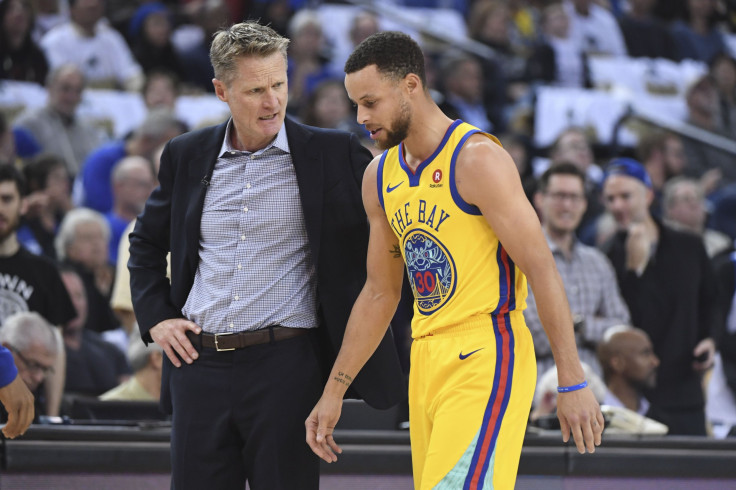 Based on Curry's career stats, it appears that Kerr may have been right about his assumption.
At 33, Curry is still arguably the most lethal scorer in the league. In his first four games for the Warriors, he averaged a stunning 29 points per game, his third-best since entering the NBA.
Kerr admitted that despite this not being the first time, he is still "blown away" by Curry's impeccable performances.
"Even though we've all been here watching it, I'm still blown away," Kerr previously admitted. "Not just the shooting range, but the competitiveness and the guts and just an amazing, amazing player. What a game he had."
"Steph Curry was just Steph Curry," he added. "There's never been anyone like him. Those last two threes were ridiculous."
© Copyright IBTimes 2023. All rights reserved.