Warriors vs. Cavs Betting Odds: Who Las Vegas Oddsmakers Are Picking For Game 5 Of The 2017 NBA Finals
LeBron James made one thing clear during Game 4 of the NBA Finals on Friday: he won't be swept. In what looked like a complete swap of talent, James and the Cleveland Cavaliers played like they were the ones who were up 3-0 against the Golden State Warriors.
It's safe to assume that most Warriors fans didn't see this coming and now the world must wait for another game for an outcome. That's right, a Game 5.
READ: Cleveland Cavaliers vs. Golden State Warriors: Game 5 Prediction, Betting Odds For 2017 NBA Finals
The Warriors have been the favorites to win the series since before these two teams even played their first game. Before the playoffs even began, BookMaker.eu had the Warriors favored to win the 2017 NBA title with odds of 64 percent.
The Cavaliers were second at 29 percent. No other team was able to top 8 percent.
Ahead of Game 5, betting site OddsShark, listed Golden State as an 8.5-point betting favorite to take it all with the over/under at 231.5 points, even after the impressive Cavaliers win on Friday. From Friday to Sunday, those odds haven't changed.
Normally, the team cruising to a 137-116 win wouldn't sit as almost double-digit favorites. But these two teams and this series has been anything but normal, and oddsmakers should feel like Game 4 was the last chance for a desperate team to avoid a sweep rather than the beginning of another record-breaking comeback.
Oddsmakers just don't like Cleveland's chances of winning in Game 5.
READ: Could The Cleveland Cavaliers Trade Kevin Love? NBA Finals 2017 Ignite Latest Speculation
Most lines in this series where around the seven-point range for Golden State, Currently the Warriors remain the favorites by nine points, according to OddsShark.
After Game 1, OddsShark had the Warriors as nine-point favorites over the Cavs for Game 2 on Sunday night on their home court. The over-under was at 221.5 points. Remarkably the line began at seven points before changing to nine within minutes of the end of the game. Betters gained total confidence in the Warriors after watching them cruise to a win in Game 1.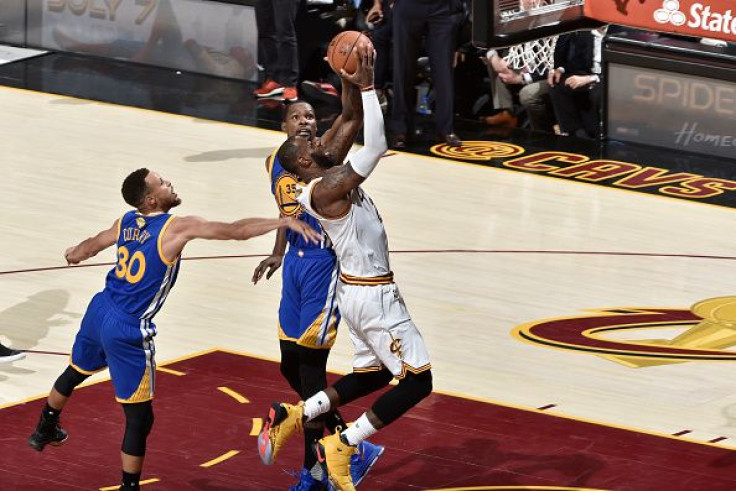 According to Vegas Insider, the lines for Games 3 and 4 in Cleveland had the Cavs at two-point favorites in each game.
Those fans who bet on Durant to win the NBA MVP should be patting themselves on the back as OddsShark listed Durant as a +200 favorite before Game 1, so those who bet $100 would stand to make a $200 profit.
Before the series, James knew what he was up against.
"I said it after we won the Eastern Conference finals that we're getting ready for a juggernaut," James told reporters of the Warriors. "It's probably the most, most firepower I've played in my career. I played against some great teams, but I don't think no team has had this type of firepower."
Golden State overcame being down six points in the last minutes of Wednesday's 118-113 win by Kevin Durant's clutch 3-pointer over James with 45 seconds remaining.
"I don't want to relax," Durant told reporters. "It's not over. This is a crazy game, anything can happen. I'm just trying to enjoy this moment, try not to look in the future or the past."
The Warriors are seeking their second NBA title in three years when the Cavs visit Oracle Arena on Monday.
© Copyright IBTimes 2023. All rights reserved.