Warriors vs. Cavs Christmas Day: Early Look At Steph Curry's Showdown With LeBron James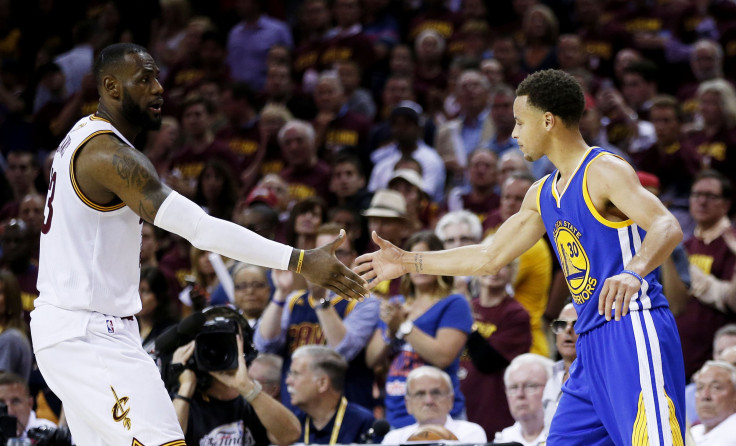 The Cleveland Cavaliers might finally have their full squad, but they haven't faced a Golden State Warriors quite like this before. Reigning MVP point guard Stephen Curry and the Warriors (26-1) eliminated LeBron James and the shorthanded Cavaliers (18-7) in six games to claim their first NBA title more than four decades last season.
It was a thrilling series that could have been even closer had the Cavs been at full strength. The Cavs missed both point guard Kyrie Irving and power forward Kevin Love due to injuries during last season's finals, prompting James to provide an overpowering 35.8 points, 13.3 rebounds, and 8.8 assists over 45.8 minutes per game during the series, but ultimately failing to snap Cleveland's half-century long championship drought.
Now the Cavs and Warriors rematch last season's finals and perhaps preview this year's championship round Friday afternoon at Oracle Arena with Irving working his way back into the lineup after months of recovery from a fractured left knee cap suffered during Game 1 of the finals six months ago.
Irving made his return to the court in Cleveland's lopsided 108-86 victory over the beleaguered Philadelphia 76ers on Sunday, recording 12 points, four assists, and two steals over 17 minutes.
"Kind of been a long, long road, but finally getting out there with my teammates was a pleasure," Irving said after the game.
Irving will have one more tune up against the New York Knicks on Wednesday, and while he's under a minutes restriction, his return couldn't have come at a better time for James and the Cavs. James leads the team in points, assists, steals, and minutes per game, carrying much of the load that he shared with Irving and Love last season.
Love's averaging a double-double of 17.3 points and 10.5 rebounds per game, but he's somewhat struggled with his shot much like last year. The 27-year-old is hitting 43.5 percent of his attempts compared to 43.4 during his first season in Cleveland.
Still, even with Irving around to pester Curry on both ends of the floor, these Warriors have already set a new record with the second-longest regular season winning streak in NBA history and Curry's discovered a new dimension of dominance.
Curry's leading the NBA with 31.8 points per game, more than three points better than Houston's James Harden, and 131 three-pointers made while ranking fifth with a 45.3 success rate from deep.
And these young Warriors have developed an even stronger chemistry despite the absence of head coach Steve Kerr and Luke Walton filling in on an interim basis. Golden State's seen guard, fellow Curry "Splash Brother" and deep threat Klay Thompson and forward Draymond Green excel in the NBA's highest-scoring offense.
© Copyright IBTimes 2023. All rights reserved.