Was Rudy Giuliani Target Of Iran Bomb Plot? Diplomat Charged In Germany
BERLIN - An Iranian diplomat who allegedly plotted to bomb a Paris meeting where the star speaker was Rudy Guiliiani, Donald Trump's high profile legal adviser, has been charged with conspiracy to commit murder.
German federal prosecutors said Wednesday Vienna-based diplomat Assadollah Assadi is suspected of contracting a couple in Belgium to attack a Paris meeting of an exiled Iranian opposition group. They said he was suspected of having given the couple a device containing 500 grams of the explosive TATP.
U.S President Donald Trump's lawyer Rudy Giuliani and several former European and Arab ministers were among those attending the meeting of the Paris-based National Council of Resistance of Iran (NCRI).
The two suspects in Belgium were intercepted by Belgian police on Saturday, with 500 grams of TATP, a home-made explosive produced of easily available chemicals, as well as a detonation device found in their car, a joint statement by the Belgian prosecutor and the intelligence services said.
The 38-year-old man and a 33-year-old woman, identified only as Amir S. and Nasimeh N., were charged with attempted terrorist murder and preparation of a terrorist act, it said.
Staff at the embassy said the ambassador was not immediately available for comment. Iranian President Hassan Rouhani is due to visit Austria on Wednesday.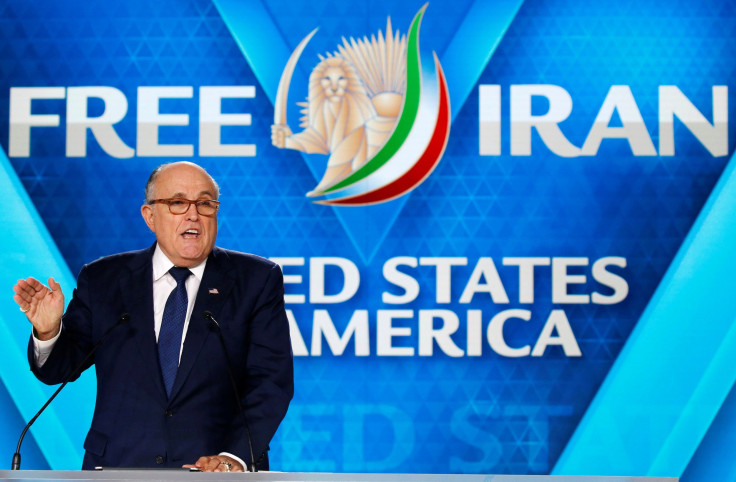 NCRI is an umbrella bloc of opposition groups in exile that seek an end to Shi'ite Muslim clerical rule in Iran.
Its meeting, which attracted a crowd of thousands, took place on Saturday in Villepinte, just outside of Paris, a three-hour drive from Brussels.
"A plot by the religious dictatorship ruling Iran to carry out a terrorist attack against the grand gathering of the Iranian Resistance in Villepinte was foiled," Shahin Gobadi spokesman for NCRI said in a statement.
NCRI, also known by its Farsi name Mujahideen-e-Khalq, was once listed as a terrorist organization by the United States and the European Union but is no longer.
Following the arrests, Belgian authorities also conducted five raids in different parts of the country but did not elaborate on whether anything was found.
- Reuters
© Copyright IBTimes 2023. All rights reserved.