Washington State School Shooter Jaylen Fryberg's Family Living In 'Nightmare'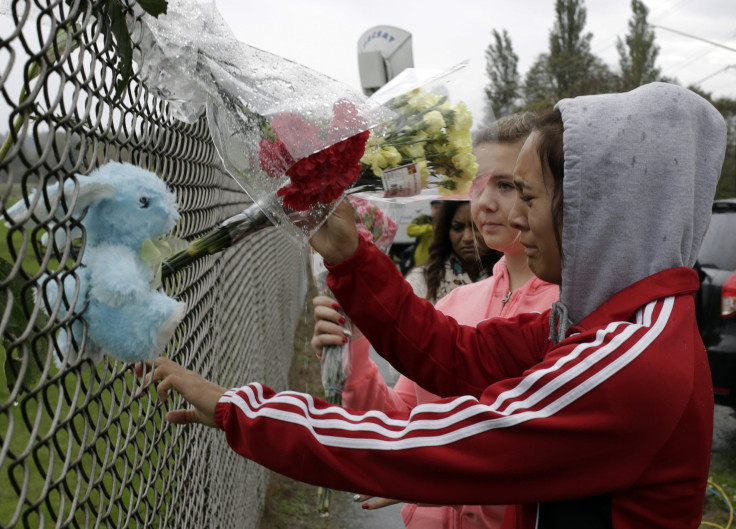 (Reuters) - Relatives of a Washington state teen accused of a high school shooting rampage said on Saturday that they were living in a "nightmare" and struggling to understand why the boy targeted his two cousins and several friends before killing himself.
One girl was killed and four other freshman students were severely wounded in Friday morning's rampage inside the cafeteria at Marysville-Pilchuck High School, north of Seattle.
Police have not formally identified the student gunman, but family members on Saturday told Reuters 14-year-old Jaylen Fryberg was the shooter. Relatives also said two male victims were his cousins, Nate Hatch and Andrew Fryberg.
"I feel very distraught, like it's a nightmare," said Paula Hatch Satiacum, 49, the aunt of one teen and a relative of the other two.
She said there was "no indication" of trouble between the cousins before the incident.
Brandon Hatch, 26, the boys' cousin, described the three as best friends who lived just doors away from each other on Native American land, near Marysville.
"Nate and Jaylen and Andrew grew up together," Hatch said. "They'd go over to each other's houses on the weekend, after school, and play games, play sports together."
Both the Hatch and Fryberg families are members of the Native American Tulalip Tribes.
"As far as I knew, they were all a bunch of bright kids and had a future," Hatch said. "It's very hard. I don't know why this happened. I've heard the rumors, but I just want to know the truth."
Investigators said they were still searching for a motive and had recovered a .40 caliber handgun from the school.
The shooter targeted a cafeteria-table gathering of his friends and family, prompting a lockdown of the school and a flood of heavily armed police, law enforcement officials and witnesses said.
One girl was killed. Her identity has not been released.
Fifteen-year-old Andrew Fryberg, was in critical condition with a gunshot wound to the head, and Nate Hatch, 14, was in serious condition with a gunshot to the jaw, hospital officials said.
Two other female victims, Shaylee Chuckulnaskit, 14, and Gia Soriano, 14, remained in critical condition at a different hospital, medical officials said.
The incident sent shock waves through the Tribes and broader Marysville, a town of about 63,000 people, with many voicing disbelief that Fryberg could be responsible.
"Jaylen was always outgoing, an athlete," Brandon Hatch said. "He was a funny guy at times, too, a jokester."
However, there were troubling signs. Classmates and parents said Fryberg had recently had a dispute on the football field.
Rebecca Cooley, whose son played football with Fryberg, said he had been in a fight with another player over a disparaging remark made during football practice.
"(Jaylen) broke the kid's nose," Cooley said. "A lot of the football players stepped in during this fight."
There were also hints on social media at a disappointment of some sort. Messages at times suggested signs of heartbreak and anger.
A school official who requested anonymity and a friend of one of the female victims said a girl had recently rejected Fryberg.
"I heard he asked her out, and she rebuffed him and was with his cousin," said Bella Panjeli, a ninth-grade student at a different school who said she was a friend of one female victim.
'A LITTLE BIT OLDER'
Vigils for the victims were planned through the weekend.
At the Mountain View Presbyterian Church in Marysville on Saturday, a somber group of students, parents and residents tried to offer comfort and make sense of the tragedy.
John and Cindy Honeyman said their 15-year-old son, Isaac, was ordered to shelter in a classroom during the shooting.
"They are all just a little bit older today, and that makes me sad," Cindy Honeyman said, her eyes reddened from tears.
The Tulalip Tribes said in a statement on their website that the community was "reeling from this experience.
"Sadly, we are now experiencing what has become a national trend, which we, as a society, must address," the statement said.
According to the Snohomish County Sheriff's Office, a school employee had tried to stop the shooting, the latest in a string of such incidents that has prompted national debate about school safety and gun laws.
(Reporting by Eric M. Johnson; Writing by Victoria Cavaliere; Editing by Lisa Von Ahn and Franklin Paul)
© Copyright Thomson Reuters 2023. All rights reserved.