Watch Aurora Borealis Live Stream: How And When Will The Northern Lights Show Begin In New York?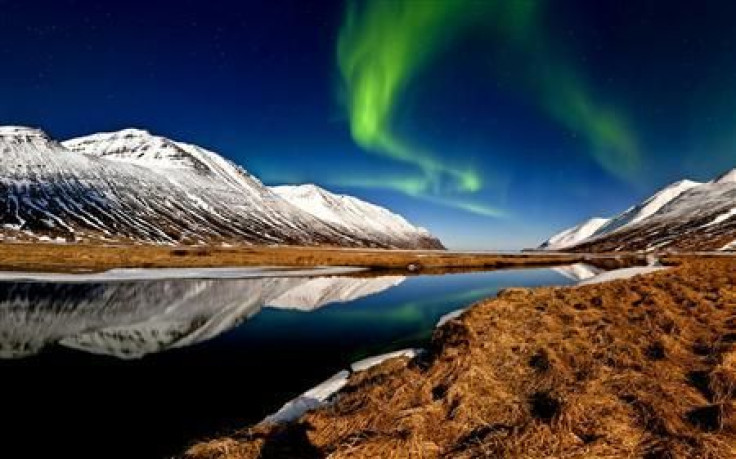 North Americans could be in for a real treat Saturday night assuming good weather conditions prevail: The illustrious aurora borealis may be visible to skygazers who are willing to stay up late enough.
(Click here to see Livestream footage of the dazzling northern lights.)
Unfortunately, the aurora borealis might skip the U.S. East Coast altogether, but it will most likely be viewable on the West Coast. The unusual late-night spectacular show is reportedly a result of a solar flare Thursday that will be most visible on Earth Saturday night.
The natural phenomenon is expected to hit the night sky around 8 p.m. EDT, but there is a seven-hour window during which the northern lights may be seen, AccuWeather.com reported.
New Yorkers may have a rare shot at seeing the aurora borealis, but others far to the south and west might not be as lucky.
"Viewing conditions will be best in the mid-Atlantic [region], specifically for parts of Pennsylvania and the Delmarva [Peninsula]," the weather site said. "Most of the country will have poor to fair views as a result of cloud cover, with areas further south not experiencing the aurora at all."
AccuWeather continued: "A pocket of fair conditions sits over parts of Oregon into Washington and southern Idaho. A swath of partly cloudy conditions will also spread over a section of the Ohio Valley for parts of Michigan, Indiana and Illinois. Ohio will experience fair to good viewing conditions. For the rest of the country, conditions will be poor."
The aurora borealis -- or the aurora australis in the Southern Hemisphere -- "occur when highly charged electrons from the solar wind interact with elements in the earth's atmosphere," according to HowStuffWorks.com.
It noted the different colors develop when highly charged electrons from the solar wind interact with atmospheric elements such as nitrogen and oxygen. The altitude where they meet helps determine the colors.
"While we can't say for certain the region will be treated to the northern lights phenomenon," the Inquisitr aptly quipped, "there is a nearly 100 percent chance we will all get to see some aurora borealis drinking party shots tomorrow morning on Instagram."
© Copyright IBTimes 2023. All rights reserved.