WATCH: Church Congregants Attack Police Officer In South Africa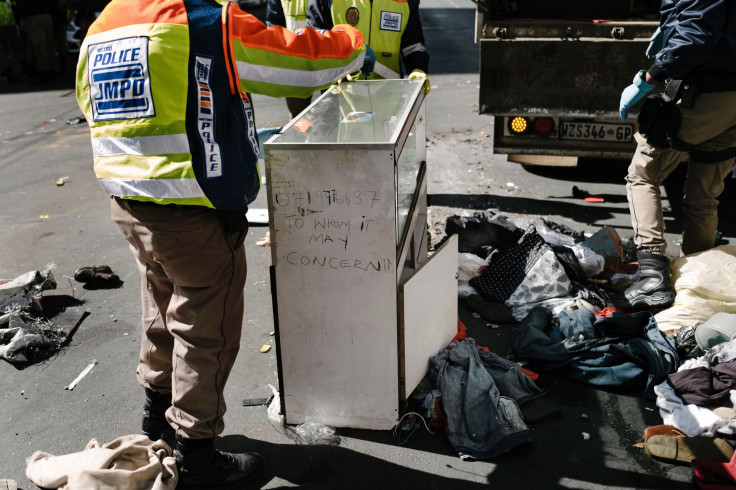 A video of a group of church congregants attacking a Johannesburg Metro Police (JMPD) officer captured in Hillbrow, Johannesburg, on Sunday has gone viral on both Twitter and Facebook since it was posted. The video shows members of a Johannesburg church congregation pushing, disarming and beating a JMPD officer.
The two-minute-long video initially uploaded to Facebook by a user called Yusuf Abramjee, received more than 270,000 views on the social network, alongside over 5,000 shares and about 400 comments at the time of publishing this story.
Abramjee also uploaded the clip to his Twitter account which received a further 2,500 retweets, more than 1,000 likes, and more than 700 comments.
The video also began trending in South Africa late Sunday evening.
The Johannesburg church, whose members were the ones reportedly seen in the video, has defended itself after the violent clash, which resulted in one of the JMPD officers being hurt and ending up in hospital.
On its Facebook page, the Revelation Church of God said: "Instead of police helping to remove squatters from our land' they choose to attack church members with shootings & paper (sic) sprays… This is the freedom we fought for' for our own people to attack us."
Metro police told Citybuzz, a local news source in Johannesburg, that one of its officers and a tow truck driver had been attacked by the members of the church in Hillbrow. Police said the attack reportedly took place when the two officials from JMPD hooked up an illegally parked car' which reportedly belonged to a member of the church on Claim Street in Hillbrow' as the vehicle was said to have caused traffic congestion.
"From interim investigations, it is believed that the JMPD officer drew his firearm and fired into the air to stop the rioting congregants from advancing toward them, but the crowd did not heed the warning but proceeded to attack the officer," according to a statement issued by Wayne Minnaar and Edna Mamonyane for the Joburg public safety department, Citybuzz reported.
"The mob over-powered and disarmed the officer, who was beaten and left unconscious and had to be rushed to Milpark Hospital," the statement said.
"The assailants went to hand in the firearm at Johannesburg Central Police Station. Upon arrival at the station, one member of the congregation was detained by the SAPS for illegally being in possession of a JMPD firearm," it added.
Public Safety MMC Michael Sun also condemned the mob attack on the metro police when officers were doing their job and have been executing City's bylaws.
"We will not allow this attack on our Metro Police go unprosecuted, the culprits will have to face the full might of the law," said MMC Sun, according to Times Live, a South African daily newspaper.
© Copyright IBTimes 2023. All rights reserved.