WATCH: Disabled Kids Defy Gravity On Zero-G Flight With Astronauts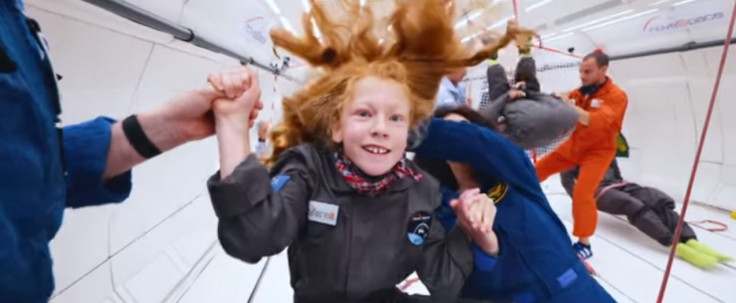 A group of disabled children went on the adventure of a lifetime, hanging out in zero gravity just like astronauts.
Airborne Films shared a video (below) of the mission, done through the French organization Rêves de Gosse, which translates to Kid's Dream and is a group that connects differently abled children on projects that are centered on aviation. Eight children and two adults with disabilities boarded a zero-g flight run by company Novespace so they could experience weightlessness and see how microgravity affects everyday objects.
The European Space Agency sent along six astronauts to team up with the kids on the flight. That group included British astronaut Tim Peake, who was staying aboard the International Space Station between late 2015 and early 2016 and was the first Brit to go up there, according to the ESA.
Once those aboard the plane achieved zero-g, the astronaut volunteers spun around the lucky kids and adults, sending them into flips and helping them float safely.
"The children also took part in education experiments including lighting a candle, mixing liquids of different densities, playing ping pong with bubbles of water and working a fidget spinner to demonstrate the effects of weightlessness," Airborne Films said.
Those kids came from the United Kingdom, France, Germany, Belgium and Italy — all countries which are member states of the ESA. Peake and the other astronauts hailed from the same nations; there was Frank De Winne from Belgium, Maurizio Cheli from Italy, Thomas Reiter from Germany, and Claudie Haigneré and Jean-Francois Clervoy from France.
The flight took off from France in August.
"ESA is delighted to support this initiative," space agency director general Jan Wörner, who was on the flight, said in a statement. "Educating and inspiring as diverse [an] audience as possible, including youth, on science and spaceflight is among our priorities, and extending this outreach mission to children of all capabilities is doubly rewarding."
The disabled adults on the flight included Samuel Koch, a television personality who became paralyzed while performing a stunt on live TV, and Philippe Carette, who volunteers with Rêves de Gosse.
Zero-g flights mimic the weightlessness of space and Earth orbit by repeatedly making up and down maneuvers.
Many people have taken these private flights and posted videos of their experiences. For those who are looking for a description of what it feels like, inventor and YouTube personality Simone Giertz said in her video, "As the airplane's going up, you're laying down on your back and first you're getting heavier and heavier and heavier, but then you're getting lighter and lighter and lighter until you just float up. … Your instinct is to just pedal, which is terribly ineffective."
© Copyright IBTimes 2023. All rights reserved.