Watch Mariano Rivera Leave Mound At Yankee Stadium For The Final Time; Derek Jeter, Andy Pettitte Embrace 'Mo' During Last Game [VIDEO]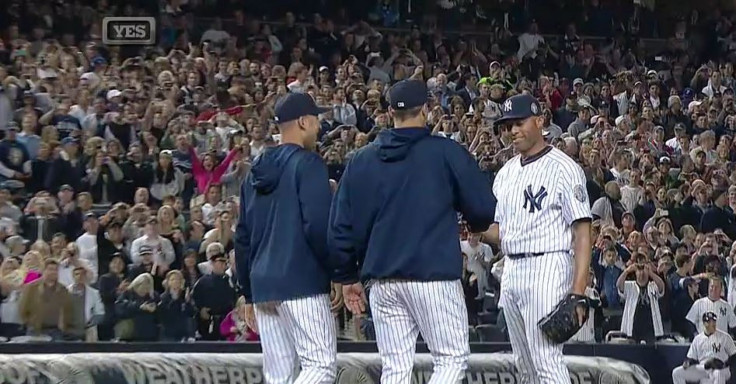 New York Yankees legend Mariano Rivera left the mound at Yankee Stadium for the final time on Thursday, in what will undoubtedly go down as one of the most emotional moments in the team's storied history.
Rivera walked out of the bullpen at Yankee Stadium in the eighth inning, "Enter Sandman" blaring as it has a thousand times before, and took a slow jog to the pitcher's mound for the final time. Four outs later, with two outs in the ninth inning of the Yankees' first meaningless September baseball game since 1993, manager Joe Girardi decided that the time had come for Mo's final exit.
Derek Jeter and Andy Pettitte, Rivera's teammates throughout his unprecedented run as baseball's best closer, walked to the mound to send him off in style. "It's time to go," Jeter told an emotional Rivera, according to the Associated Press. Then Pettitte said the words that brought Rivera to tears: "It's been an honor to play alongside you."
Rivera embraced Pettitte amid a standing ovation from Yankee Stadium's sellout crowd of 48,675. The 43-year-old closer sobbed in his teammate's arms, overwhelmed by the fans' four-minute display of affection, before gathering himself and leaving the mound for the final time.
"I was bombarded with emotions and feelings," Rivera told reporters after the game. "Everything hit. I knew that's the last time. Period."
The sellout crowd chanted "Ma-ri-a-no" as Rivera walked toward the dugout, embraced an equally emotional Girardi, and blew kisses to fans in the first row. After taking a moment to collect himself, Rivera climbed back out of the dugout and removed his hat, enjoying one final curtain call at Yankee Stadium.
After the game, Rivera was thankful that Jeter and Pettitte, his teammates on five World Series-winning teams, were on hand to share his final moment on the mound. "I was so thankful they came out," Rivera told reporters, according to AP.
"We've all grown up together," Jeter said after the game. "It's too bad good things have to come to an end, I guess, eventually."
The video of Mariano Rivera leaving the mound at Yankee Stadium for the final time can be viewed below. Be warned, you're probably going to need some tissues.
© Copyright IBTimes 2023. All rights reserved.