Watch: Python Drops From Ceiling During Bank Staff Meeting
A python crashed through the ceiling of a bank in southern China's Nanning city on Friday, frightening the staff during a meeting.
The scene captured on the surveillance camera shows the five-foot intruder dropping down near a group of bank clerks who had gathered for a meeting at the Xin Cheng branch of China's Industrial and Commercial Bank in Guangxi Zhuang Autonomous Region shortly before 8:15 a.m. local time Friday (8.15 p.m. EDT Thursday).
The staff was seen quickly dispersing in horror as the python slithered its way around the room before nestling behind a sofa.
The bank informed the local forest public security officers and workers from a wildlife protection station, who utilized their professional tools to carefully capture the snake. It was then placed in a transparent bag, the Australian Broadcasting Corporation reported.
The reptile was handed over to the region's Wildlife Rescue Research and Epidemic Monitoring Centre for disposal and was currently being kept at the city's wildlife protection center.
According to animal protectors, the snake may have been reared by someone nearby. They believe it was hunting for food when it fell through the ceiling of the bank, Atlanta Journal-Constitution reported.
No one was hurt during the incident, and the bank returned to business as usual. The branch was visited by a snake last year as well but details of the incident were not available.
In a similar incident in 2016, a missing white ball python fell from a hospital's ventilation system onto the floor in Tacoma General Hospital, Washington.
The snake's owner had been in the hospital and brought his snake along in an animal carrier that was also filled with stuffed animals. After discovering the reptile had gone missing, the former patient alerted the hospital. A month later, the snake fell from the ventilation system.
"The fact is that I'd be kind of awed as to why they'd bring it in... as a pet owner I have a snake of my own, but I wouldn't bring it to a hospital," Tacoma resident Chris Cummings said, Fox 18 reported.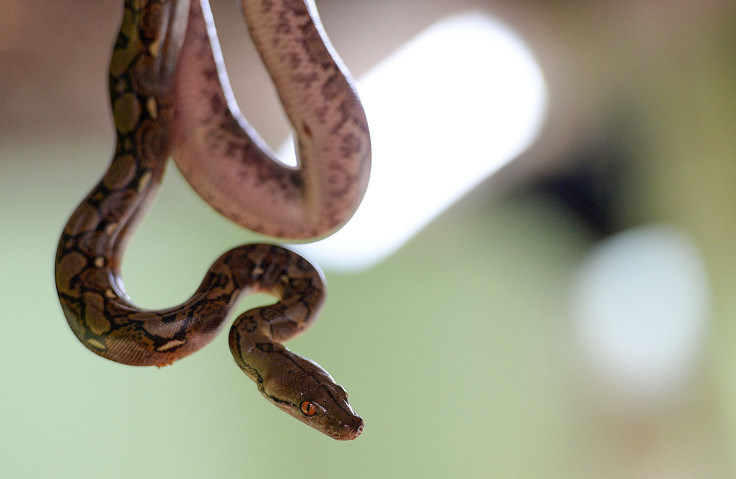 © Copyright IBTimes 2023. All rights reserved.