Watching Warriors Record-Chasing Game Or Kobe Bryant's Farewell? NBA Fans Have Multiscreen Options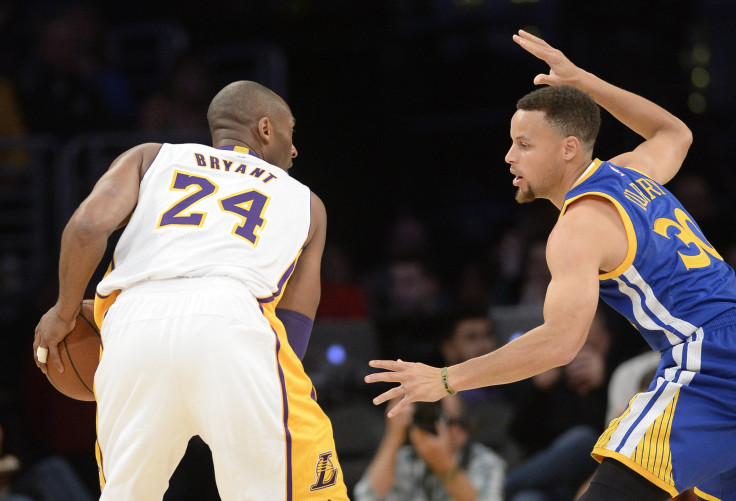 Wednesday night's slate of NBA games include two contests for the ages as superstar Kobe Bryant is set to play the final game of his career at the same time the defending champion Golden State Warriors attempt to break the league's regular season win record. Chances are the NBA won't see this kind of night again anytime soon.
Just five years ago, the prospect of hoops enthusiasts being able to watch both games simultaneously would have been a major viewing conundrum. But considering a growing number of technological advances, the 2016 NBA diehard should have no trouble following both matchups. The dual regular season finales, airing on separate ESPN channels, could prove to be a key moment for second-screen experiences — such as tracking via the now-infamous NBA Twitter community or tuning in to a stream — as both the NBA and ESPN look to capitalize on history in the making.
"For the regular season, the fact that they've got both of these huge events going on is really, really unusual. … I don't remember anything like that in my lifetime," said Joel Lulla, a professor of sports media at the University of Texas at Austin and longtime consultant in media and negotiating services. "There will be some cool Twitter conversation, and there will be a lot of second screen use, especially by younger fans."
Heading into the season, it would have been tough to imagine any end-of-the-season matchup trumping the final game for Bryant, a transcendent, global star. But Golden State seem poised in their last game of the season to top the 72-win record set by the Michael Jordan-led Chicago Bulls that was once thought to be untouchable. Bryant leads his Los Angeles Lakers against the Utah Jazz, and the Steph Curry-led Warriors take on the Memphis Grizzlies. The Warriors game will be televised on ESPN, the Lakers on ESPN 2. Both games tip off at 10:30 p.m. EDT.
Fans nationwide are riveted by the Warriors' chase, as Golden State's record-tying game against the San Antonio Spurs Sunday was the most-viewed telecast ever for NBA TV. And viewers have, at times, shown some interest in farewell tours, most notably in the case of MLB superstar Derek Jeter.
ESPN said in a press release it was "home to one of the most significant nights in NBA regular season history." But while it's great to televise two huge events, it's not ideal that the games are set to be played simultaneously at a late time for the large East Coast audience.
"I am a little bit surprised that one of the games, and I think the Warriors game, was not moved to earlier," Lulla said. "I'm thinking the Warriors game is going to dwarf [the Lakers game] in the ratings. ... The games are together, and they're going to cannibalize each other."
And for some that might just mean relying on the DVR, which Lulla predicted would relegate the Bryant game to a lower tier, since Lakers were long ago eliminated from playoff contention and "the game itself has no import other than Kobe."
But while ESPN might lament a slight dip in ratings from the figures it might have racked up had the games had been played at separate times, NBA fans have never been better equipped or more comfortable using means outside television to track games. And those with a cable subscription can stream either game on WatchESPN while taking in the other on traditional TV.
"Fans know to go to WatchESPN for exactly this kind of multiscreen live viewing experience, which is attracting record audiences," an ESPN spokeswoman told International Business Times, noting this year was the most-watched NBA season ever for WatchESPN and that a previous 2016 Warriors game set its viewership record.
The network will use all its social platforms — Facebook, Twitter, Instagram, Snapchat — as well as ESPN.com, the ESPN app, WatchESPN and ESPN Alerts, to keep fans updated. An ESPN representative also told IBT that the network would feature cut-ins to update TV audiences on the game they're not watching.
Meanwhile, the NBA will also do its best to make sure its fans are well-served beyond the game action. The league plans to roll out Kobe farewell content on its site and provide behind-the-scenes looks at the games as they play out, while also keeping fans up to date. The NBA's website is also expected to track the social conversation — which has been Bryant-heavy lately — and NBA TV will re-air Wednesday Bryant's landmark 81-point game in 2006 and an interview with the star.
"We're really going across-the-board coverage, and it complements the coverage ESPN is doing," an NBA spokesman told IBT.
Online components are proving increasingly crucial to pro basketball fans. The NBA app garnered nearly 940,000 unique viewers Sunday when the Warriors beat the Spurs, the highest figure ever during the regular season. And it has been a year of growth for the NBA's League Pass streaming offerings as it debuted $6.99 single-game streams this season.
It makes sense that online coverage would see growth, considering 43 percent of the NBA's audience is under 35 years old and has proven comfortable on the internet, according to Nielsen data. The analytic group found that 2015 sports events accounted for just 1.4 percent of television programming but nearly 50 percent of all Twitter TV conversation.
And "NBA Twitter," as the online community of league diehards is called, stands apart from other leagues' online faithful. The NBA's account has 3.5 million more followers than the account for the NFL, America's favorite sport. Last year's NBA Finals, featuring the Warriors and a LeBron James-led Cleveland Cavaliers squad, accounted for more than 18 million tweets.
"Twitter has become the epicenter of basketball fandom, a beating heart and a central nervous system, a place where serious statistical analysis flows alongside highlights, jokes, exclamations, and inane trash talk from every conceivable corner of the world," wrote Maxwell Neely-Cohen in the New Republic in January.
And while that can prove a niche area of Twitter, "during the playoffs, All-Star Weekend, or a particularly important regular season game, NBA Twitter supernovas into something else, most of all on Christmas Day, the NBA's premier regular season showcase," Neely-Cohen wrote.
It's hard to imagine a more important regular season day than Wednesday, as both late-night games appear to be once-in-a-lifetime experiences. And Bryant, a star for two decades now, is perhaps the biggest individual draw in the league for the casual fan who might look for a way to track both matchups.
"I assume they'll have a great night on Twitter," said Tom Richardson, founder of the consulting firm Convergence Sports & Media and former vice president at AOL Sports. "It seems like this could be their biggest night yet, I suppose, in light of the interest that goes beyond their core fans and extends to their casual fan base."
In the past a night like Wednesday, featuring Bryant and the Warriors playing simultaneously, might make NBA fans worry about missing history. In 2016 — a TV, computer and smartphone at his disposal — a diehard's biggest concern could be information overload.
"It's a good time to be having this problem," Richardson said.
FOR FREE to continue reading
✔️ Unlock the full content of International Business Times UK for free
offer available for a limited time only
✔️ Easily manage your Newsletters subscriptions and save your favourite articles
✔️ No payment method required
Already have an account?
Log in
© Copyright IBTimes 2023. All rights reserved.