MLB Stars Get Massive Contracts But Few Endorsements. Here's Why.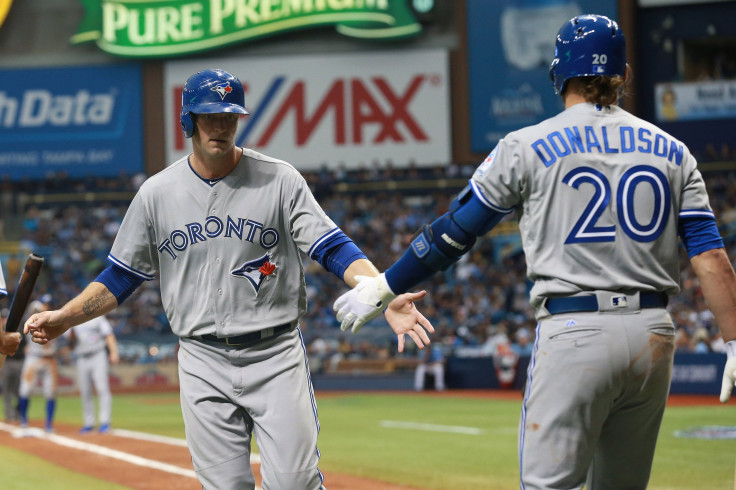 It pays to be an MLB star. Very well, in fact. The sport's 2016 season just got underway, and the latest mega-contracts belong to pitchers David Price and Zack Greinke, both of whom signed deals worth at least $30 million per year this past offseason. But while the top baseball stars might be rewarded through massive contracts, they're largely missing out on a major income stream for many other top professional athletes: endorsements.
Scroll through the Forbes list of "The World's Highest-Paid Athletes" and it'll be difficult to find a baseball star even sniffing at the top athlete endorsers. Part of the problem is that baseball is a team sport that downplays any focus on individuals. It's also seen its audience grow older in recent years, making it difficult for many of its stars to pick up sponsorship deals from companies looking to win over young consumers, sports experts said.
"All the brand marketers, we're all looking at the same data. When you decide which type of athlete you're going to have represent your brand, you're looking at popularity," said Jonathan Jensen, a consultant and sports marketing professor at Merrimack College in North Andover, Massachusetts who spent a decade brokering athlete endorsement deals for brands like Microsoft and McDonald's. "And unfortunately MLB isn't as popular as it used to be ... Nationally it just doesn't have the same popularity that it used to."
The MLB's 20 Highest Paid Players in 2016 | PointAfter
There are a number of reasons baseball players struggle in the endorsement game that are tied directly to the game's nature. While brands want as much focus as possible on their athletes, MLB players spend a good portion of the game away from the camera, on the bench, or waiting for their next turn at bat. In constrast, individual sport athletes do extremely well in endorsements partly because all of the focus is on them. The Forbes 2015 rankings show tennis player Roger Federer as the top endorsement earner ($55 million), followed by golfers Tiger Woods and Phil Mickelson (about $50 million apiece).
Next on the list is NBA superstar LeBron James at $44 million, which gets at another problem MLB stars encounter: Basketball players endorse pricey sneakers that can be worn every day, while no one wants to put on a pair of cleats to head to the mall.
"It's not like fans are buying baseball spikes like they are buying NBA shoes," said Bob Dorfman, a sports marketing expert at Baker Street Advertising in San Francisco. "People buy jerseys, but it's not like a Nike shoe deal where you see LeBron shoes, and Under Armour you see Steph [Curry] shoes, and you can go out and buy those and wear them on the playground."
Baseball's older fanbase also isn't attractive to companies that want to court young consumers to build a sense of cool around their product and establish lasting brand loyalty.
"Because the game skews a little older in terms of demographics, some of the companies looking for teens as a prime demographic would maybe look to the NFL or to the NBA," Dorfman said.
In the latest Harris poll, 16 percent of adults said pro baseball is their top sport, trailing only pro football. But those fans are getting older. Fifty percent of the MLB audience was 55 or older and 26 percent was between 33 and 54 years old, according to data from Nielsen's 2013 Year in Sports Media report.
The NFL, however, is popular with nearly everyone, while the NBA boasted the youngest audience among the major sports (45 percent of its fan are under 35 years old). The NFL also has sky-high TV ratings, while big NBA games typically outperform big MLB games.
Retired New York Yankees legend Derek Jeter was long the gold standard as an endorser in MLB. Yet, in a world where Federer pulls in $55 million annually for endorsements, Jeter topped out at about $9 million a year from sponsorships, according to Forbes. Even football stars like Denver Broncos quarterback Peyton Manning and New Orleans Saint quarterback Drew Brees made more than $10 million from endorsements, according to Forbes — and they wear helmets obscuring their identity the entire game.
"I don't think there's anyone right now making more than $5 million in endorsement deals," Dorfman said of MLB's biggest stars.
Football and basketball players also benefit from the massive popularity of college sports that help them build their brands and win over sponsors long before they are in the majors.
"They're stars already before they turn pro," said Jensen. "If you go back to the 1970s and 1980s … when baseball was the most popular sport in America, at the time college sports was really a non-factor on the national scene."
According to Nielsen's 2015 Year in Sports Media report, last year's NCAA Men's Basketball Tournament final drew 28.3 million viewers and The NCAA College Football Playoff National Championship drew 25.7 million viewers, while the MLB's World Series garnered an average 14.7 million viewers over five telecasts and topped out at 17.2 million for the deciding game. That marked the most-watched World Series in five years.
A young crop of MLB stars could eventually change that. Nike is betting on Mike Trout, a 24-year-old phenom for the Los Angeles Angels who has already won an MVP, and has made him a signature cleat. Under Armour and Gatorade both sponsor Washington Nationals right fielder Bryce Harper, the 23-year-old reigning National League MVP.
Harper has expressed frustration with baseball's unwritten code of conduct that frowns on behavior like flipping a bat after hitting a homer, saying he wants to be more of an individual, telling ESPN the Magazine in March that the game is "a tired sport, because you can't express yourself."
"It's a little tougher for these guys to be icons, to be big sellers," said Dorfman. "[Harper's] trying to kick the game in the ass a little bit, to get it to be cooler, better, faster."
But for now, many MLB players have no choice but to look for endorsement opportunities in the form of regional deals where their local popularity might help them better sell a product. That can involve work such as autograph signings or deals with car dealerships.
"There's not a ton of crossover to everyday life, it's very uncommon you see people wearing a baseball jersey in public," Joshua Kushnick, an MLB agent representing players such as star Cleveland Indians outfielder Michael Brantley and Milwaukee Brewers reliever Jeremy Jeffress, said. "The top-tier player, I just think people are more focused on the money coming in contractwise."
FOR FREE to continue reading
✔️ Unlock the full content of International Business Times UK for free
offer available for a limited time only
✔️ Easily manage your Newsletters subscriptions and save your favourite articles
✔️ No payment method required
Already have an account? Log in
© Copyright IBTimes 2023. All rights reserved.