We Seek To Become Like Hezbollah: Greece's Neo-Nazi Golden Dawn MP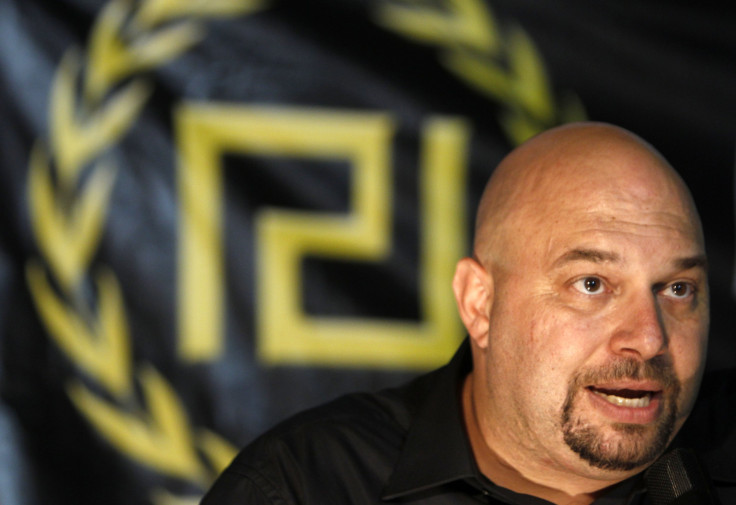 A member of Greece's neo-Nazi Golden Dawn party has told an Australian television program that he envisions his organization becoming like Hezbollah, the Shi'a Islamic militant group that essentially functions as an independent government in Lebanon.
"Golden Dawn wants to become, and will become, like Hezbollah in Lebanon, which is in effect a second government that helps even the last of its poor citizens," MP Ilias Panagiotaros told the SBS network's "Dateline" program. "As time passes, Golden Dawn will do more for our fellow citizens."
Panagiotaros also claimed that his party provides more public and social services than the state institutions that are mandated to perform such acts.
"We receive more 911 calls than the police. The situation is tragic; the institutions don't function. The only one that functions is Golden Dawn, nothing else," he stated.
Asked about the spate of suicides that have plagued Greece due to the economic crisis (an estimated 4,000 over the past four years, according to Dateline), the Golden Dawn MP provided an alternative solution -- Greeks should kill the people responsible for the economic collapse, namely the bankers.
During his appearance, Panagiotaros was carrying a sidearm, which he claimed he needed to protect himself from "anarchists and terrorists."
Panagiotaros also claimed that Golden Dawn has many supporters in other countries with significant Greek communities, including Germany, the U.S. and Australia.
"In Australia we have a very large network of supporters that grows daily," he told the program.
Referring to comments by Prime Minister Julia Gillard that far-right politics have no place in Australia, Panagiotaros countered: "We could tell her to look back a couple of hundred years to see what they did to the Aborigines, and not lecture us about racism and rights… You will see us in Australia – [in the] summer or a bit later, but you will definitely find us."
The Athens newspaper Ekathermini reported that Panagiotaros made these statements on May 2, the same day that Golden Dawn was prevented by authorities from serving free food to people at Syntagma Square. Also on that day, another Golden Dawn MP, Giorgos Germenis, tried to assault the mayor of Athens, Giorgos Kaminis. Kaminis' bodyguards saved him from bodily harm by removing a weapon from Germenis.
On Tuesday this week, Evangelos Meimarakis, the speaker of the parliament, declared that all MPs would have to pass through metal detectors to enter the House and would be banned from carrying any weapons.
Golden Dawn won 7 percent of the vote in last June's national election in Greece. It has been involved in numerous clashes with other parties, as well as police, and has committed many attacks on immigrants.
© Copyright IBTimes 2023. All rights reserved.