Welcome To Kim-land! North Korea's Grinning Dictator Tours An Amusement Park
North Korea may possibly be the grimmest place in the world, but now it has at least a new amusement park. Photographs appearing in Chimes media show the park on an island near the capital on Wednesday, a little more than two weeks after iconic Disney figures made an appearance on stage in Pyongyang.
This is no Magic Kingdom, though.
The very words "North Korean amusement park" sound like an oxymoron. While Western kids are exposed to cartoons and super-heroes, North Korean youths are fed a diet of patriotic tales of Socialist heroes working tirelessly for the fatherland. That they would even know what an amusement park is seems doubtful.
What the roller coaster ride Kim Jong-un took on his first trip to "Rungna People's Pleasure Ground" is called is unknown, but the supreme leader of North Korea seemed to enjoy it immensely.
State media described the recently-finished amusement park as a "grand edifice" and "Socialist wealth to hand down for all ages."
Kim was there to attend the park's opening ceremony, showcasing its dolphinarium, wading pool, fun fair and mini-golf course.
The Korean Central News Agency mentioned that the woman who was by his side throughout, long under the speculating glares of foreign observers, was his wife, Ri Sol-ju, providing further proof to political paparazzis.
Kim Jong-un's aunt, Kim Kyong-hui, the older sister of the late Kim Jong-il, and uncle Jang Song-taek, increasingly considered to be political heavyweights in past years as the health of the past North Korean leader deteriorated, accompanied their nephew.
Also in attendance was Vice-marshal Choe Ryong-hae, only recently promoted in April, thought to be part of a broad changing of the guard among the North's top military leaders.
Numerous other high-ranking party and military and state officials were in attendance as well. Ri appeared to be the only one not wearing a monochromatic uniform.
Near the water park, students and youths in matching bathing suits greeted him for a photo-op. At the mini-golf course, stern-faced attendants demonstrated the game to onlookers, and seated in front of a small group of foreign dignitaries.
Although seemingly happy through, KCNA said that the ever-managerial Kim "underscored the need to serve the visitors' convenience on the highest level for their enjoyment" at the dolphinarium, which does apparently, have at least one real stunt-performing dolphin.
The young supreme leader said at the occasion that the Worker's Party of Korea would strive to make the Korean people "the best one in the world" and allow them to live in luxury and comfort under socialism. One wonders if he is thinking about the country's forgotten political prisoners and nutritionally deficient populace while standing amid all that the brightly colored plastic and chlorinated water.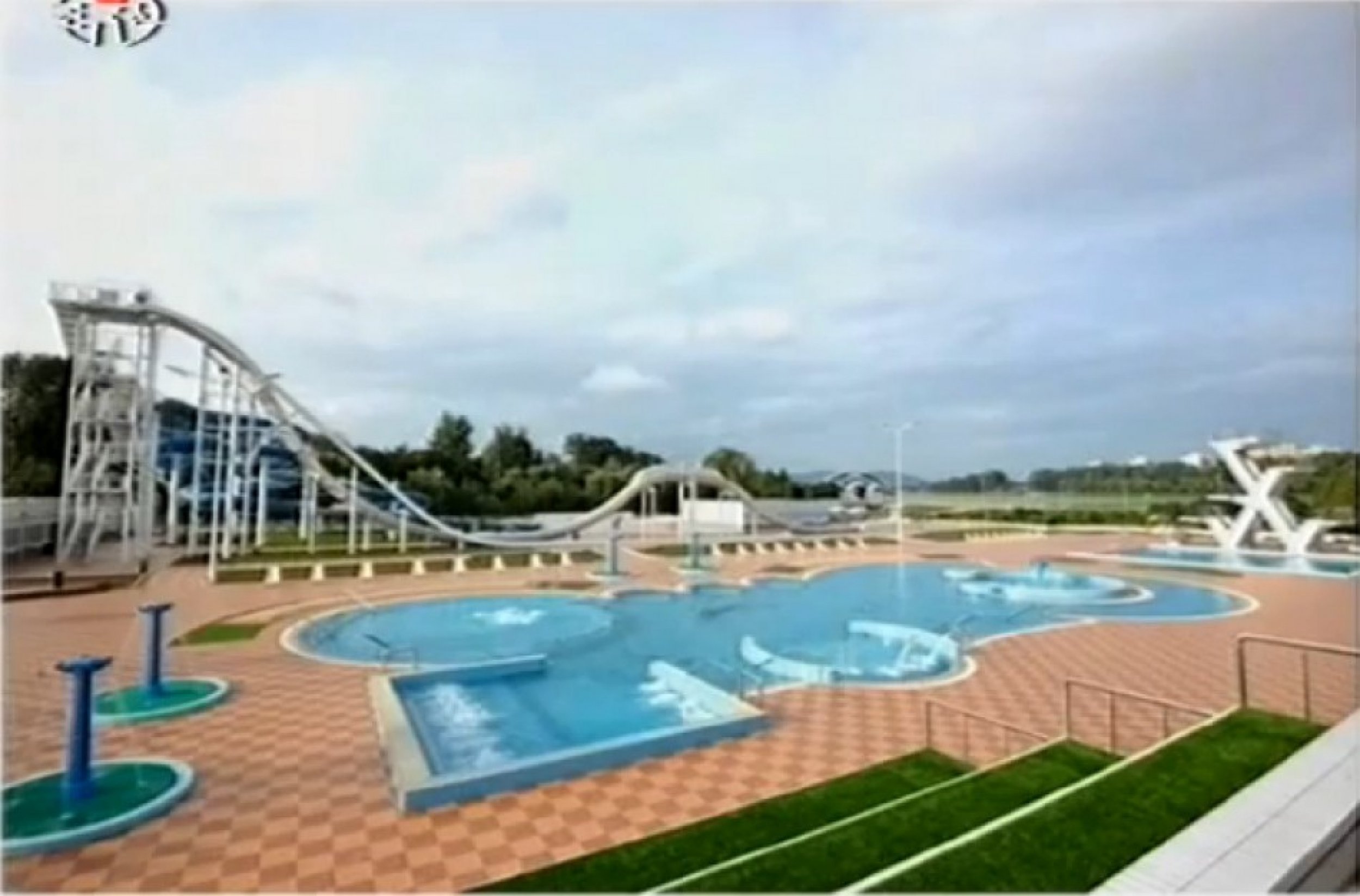 © Copyright IBTimes 2022. All rights reserved.
FOLLOW MORE IBT NEWS ON THE BELOW CHANNELS