What Is 'Defilement'? Olympian Kipruto Pleads Not Guilty To Sex With Minor
Olympic steeplechase champion Conseslus Kipruto of Kenya was accused of having sex with a 15-year-old girl and arrested. Kipruto was released on bail and pleaded not guilty to the charges.
Kipruto was charged with "defilement" which is standard in Kenyan law. Defilement is when an individual has sex with a minor, which is anyone under the age of 18 in Kenya. Sentences vary based on the age of the victim with a mandatory life sentence for cases involving children 11 and under.
Kipruto, 25, is accused of having had sexual intercourse with a 15-year-old minor and faces at least 20 years in prison if convicted, according to Kenya's sexual offense laws.
Kipruto, who works as a local policeman, wore a sweatshirt to the courthouse and pulled his hood over his head to hide his face from the press. When Kipruto was taken to the courthouse, the police officers who escorted him tried to prevent photographers from taking pictures of him. After paying $1,800 in cash bail, Kipruto was released from prison, The Associated Press reported.
Kipruto was arrested late Wednesday. He was accused of having intercourse with the minor on Oct. 20 and Oct. 21.
After the arrest, Kipruto did not make any arguments in his defense but continued to deny all charges.
Kipruto previously tested positive for the coronavirus and was held out of the first in-person Diamond League meet of the year in Monaco due to the virus.
In an Instagram post, Kipruto wrote, "Our World is going through a challenging period and we all have to take our responsibilities... unfortunately my COVID-19 test, as part of the Monaco-protocol, came back positive, and therefore I can't be part of the Monaco Diamond League."
Most notably Kipruto previously won the 3000m steeplechase at the Rio Olympics.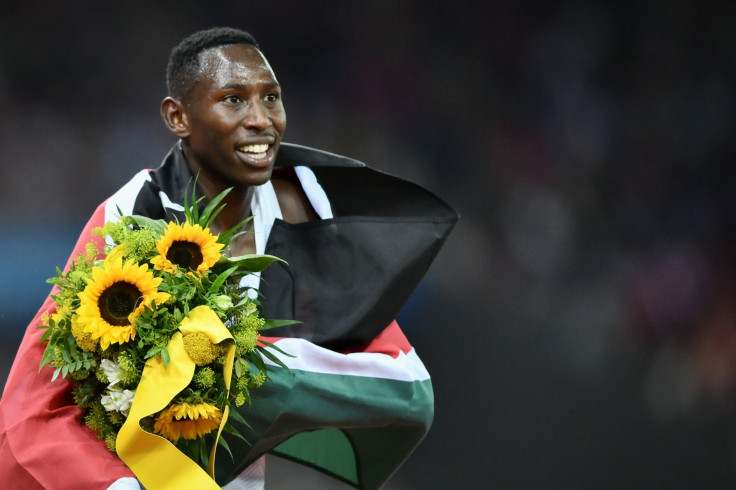 © Copyright IBTimes 2023. All rights reserved.