What Do NATO Members Pay? Germany Won't Give Billions Required, Official Says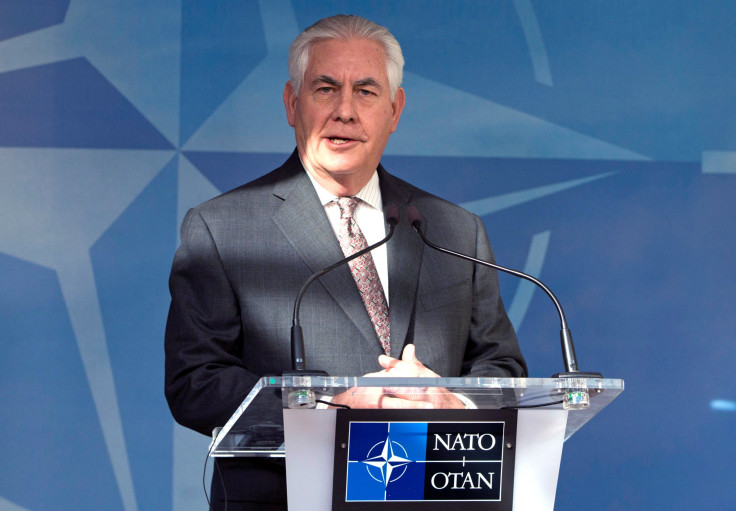 Two of the most powerful diplomats in the world, each representing key members of the North Atlanta Treaty Organization, traded monetary blows Friday at the international body's headquarters in Brussels.
The meeting marked the first time U.S. Secretary of State Rex Tillerson was face-to-face with NATO officials, as well as Germany's Foreign Minister Sigmar Gabriel. The latter directly addressed repeated U.S. concerns, from both Tillerson and President Donald Trump, that Germany, and other NATO members, comply and contribute just 2 percent of its annual gross domestic product to the organization's military fund.
Read: Most Americans Disapprove of Trump, But Not Economy
Gabriel did not appear to mince words over one of the key foreign policy points Trump has made early in his presidency and during his campaign last year.
"Two percent would mean military expenses of some 70 billion euros ($74.9 million). I don't know any German politician who would claim that is reachable nor desirable," he said, according to Reuters.
Tillerson, a former CEO of ExxonMobil, doubled down on the U.S.' desire to have other NATO members pay their "fair share." To date, the U.S. has contributed roughly 72 percent of NATO's budget and only four other countries have met the 2 percent threshold of late, according to recent data.
"Our goal should be to agree at the May leaders meeting that by the end of the year all allies will have either met the pledge guidelines or will have developed plans that clearly articulate how...the pledge will be fulfilled," Tillerson said.
"Allies must demonstrate by their actions that they share U.S. government's commitment."
Read: Government Shutdown In April Looming
Tillerson was referring to May 25's big summit of NATO leaders. The White House confirmed last week that Trump would attend but would also host NATO Secretary General Jens Stoltenberg on April 12. Press Secretary Sean Spicer said in a statement that Trump "looks forward to meeting with his NATO counterparts to reaffirm our strong commitment to NATO, and to discuss issues critical to the alliance, especially allied responsibility-sharing and NATO's role in the fight against terrorism."
Trump had been quoted calling NATO "obsolete" but 2016 military expenditure figures did show many other members, including Germany, France and Italy, had fallen below the 2 percent threshold. Last year, the U.S. contributed 3.61 percent, while Germany's total was only 1.19 percent.
© Copyright IBTimes 2023. All rights reserved.