What Does Roll Tide Mean? Alabama Football Fans Love Yelling The Rally Cry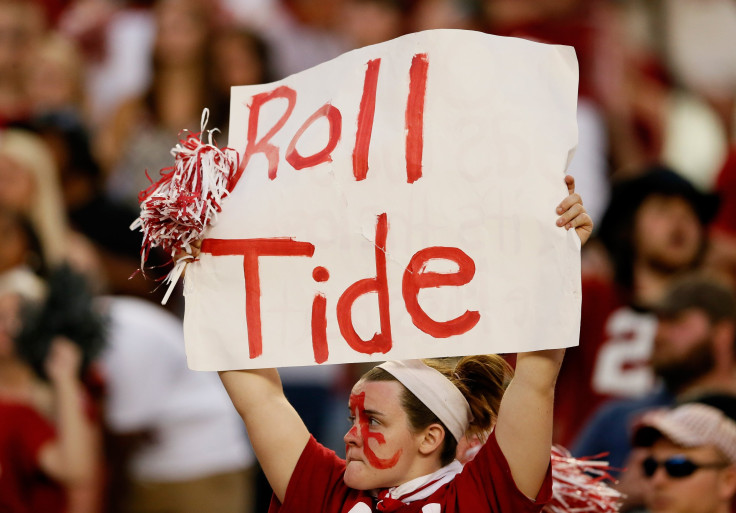 When the Georgia Bulldogs face the Alabama Crimson Tide in the College Football Playoff National Championship on Monday night at Mercedes-Benz Stadium in Atlanta, a familiar rallying cry will once again find its way into the national conversation.
Yes, Alabama fans will yell "Roll Tide!"
But what exactly does that phrase mean and how did it come to be?
Breaking down the school's nickname is a good place to start. When Alabama first began playing football in 1892 they were referred to as the "varsity" or the "Crimson White." The media, for some reason, would later give them the nickname "Thin Red Line."
But it would be Hugh Roberts, a sports editor of the Birmingham Age-Herald, who called Alabama the "Crimson Tide" in their 1907 matchup against state rival Auburn — a game that was played in brick-red mud and ended up staining Alabama's white uniforms. Roberts' headline for the game was "Crimson Tied," in reference to the game's 6-6 tie.
The nickname "Crimson Tide" would eventually stick for the University of Alabama.
Then came the rallying cry.
A fight song, "Yea Alabama," first gained prominence in 1926 after it was submitted by engineering student Epp Sykes. It eventually grew in popularity in 1960s and 1970s as the theme song for "The Bear Bryant Show" — a weekly program featuring legendary Alabama head coach Bear Bryant.
The lyrics to "Yea Alabama" are as follows: "Yea, Alabama! Drown 'em Tide!/Every 'Bama man's behind you/Hit your stride/Go teach the Bulldogs to behave/Send the Yellow Jackets to a watery grave./And if a man starts to weaken/That's a shame!/For Bama's pluck and grit have Writ her name in Crimson flame/Fight on, fight on, fight on men!/Remember the Rose Bowl, we'll win then/Go, roll to victory/Hit your stride/You're Dixie's football pride/Crimson Tide, Roll Tide, Roll Tide!"
It's the end of the song that should stand out. The Crimson Tide are expected to "roll" over the competition. The chant would continue after Alabama played Auburn in 1948 and "rolled" onto the field, according to media reports. While there are some discrepancies on how exactly "Roll Tide" became so popular, the fight song seems like the most logical place to understand the etymology.
One variation of the chant is "Roll Tide Roll," though it mostly confined to just "Roll Tide." Merchandising helped the chant pick up steam, as plenty of shirts and hats feature the increasingly ubiquitous phrase.
"Roll Tide" is not only heard at football games. It can also be used to acknowledge or greet another Alabama fan. Message boards are filled with "Roll Tide" and fans at Mercedes-Benz Stadium will no doubt warmly share it with one another in respect for their trek to Atlanta from Tuscaloosa and other parts of the Cotton State.
Some may be growing tired of the rally cry and for good reason: it's probably been used more in the last decade than ever due to the football team's prolonged success.
Alabama has won five national championships in football since their first title under head coach Nick Saban in 2009. The Crimson Tide boast a stellar 124-14 record since 2008.
© Copyright IBTimes 2023. All rights reserved.