What Does Russia Think Of HR McMaster? Michael Flynn's Replacement Considered A '100 Percent Hawk'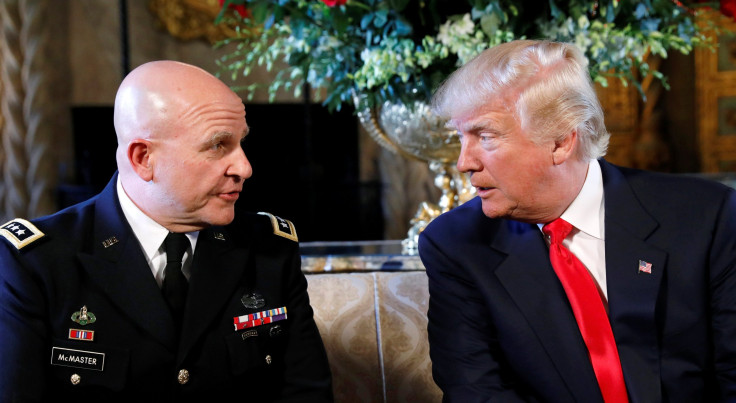 Russia doesn't appear to be too enthused with President Donald Trump's choice for national security adviser. When asked Tuesday about Trump tapping Army Lt. Gen. H.R. McMaster for the post, a Kremlin official declined to comment, Military Times reported.
Dmitry Peskov, a spokesperson for Russian President Vladimir Putin, said during a conference call with reporters that "it's important to us how our relations will develop and what attitude Washington will take."
Peskov also added: "We are patiently following our American partners determining their stance."
The comments, or lack thereof, appear to fall well out of place with Trump's attempts to improve relations between the two superpowers and former Cold War adversaries.
Moscow may have good reason to not be pleased with Trump's replacement for ousted former national security adviser Michael Flynn. McMaster reportedly considers Russia a threat to global stability -- a sharp contrast to Trump and Flynn.
Frants Klintsevich, the deputy head of the defense and security affairs committee of Russia's Federation Council, called the 54-year-old McMaster a "100 percent hawk" on Russia and told RIA Novosti that "Washington's defense and intelligence wing will conduct Russophobic policies."
Russia's concerns about McMaster perhaps stem from his recent work. In April, it was revealed McMaster was heading up a top government panel to decipher how the U.S. could respond to Russia's increased military prowess following its annexation of Crimea from Ukraine, Politico reported.
"It is clear that while our Army was engaged in Afghanistan and Iraq, Russia studied U.S. capabilities and vulnerabilities and embarked on an ambitious and largely successful modernization effort," McMaster told the Senate Armed Services Committee. "In Ukraine, for example, the combination of unmanned aerial systems and offensive cyber and advanced electronic warfare capabilities depict a high degree of technological sophistication."
Trump named McMaster as Flynn's heir Monday, nearly a week after it was reported that Flynn had misled Vice President Mike Pence about his conversations with a Russian ambassador during Trump's presidential campaign and after his victory.
© Copyright IBTimes 2023. All rights reserved.