What Is The Guyer Institute? Website Crashes After Al Jazeera's Peyton Manning HGH Accusation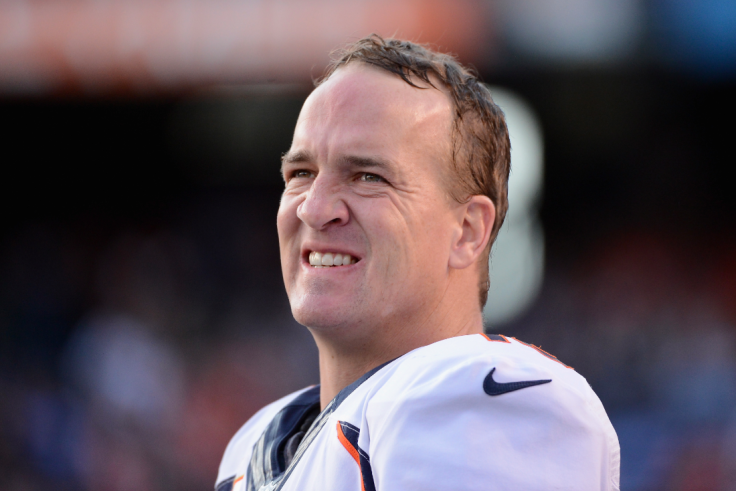 The website for the Guyer Institute, an anti-aging clinic in Indianapolis, crashed on Monday. Al Jazeera claimed that source Charlie Sly worked there in 2011 while Denver Broncos quarterback Peyton Manning was treated for an injury. It also claimed he used performance-enhancing drugs (PEDs). The athlete denied the accusation and Sly recanted his story Saturday.
If netizens try to visit the site they may be met with the dreaded 509 error, which means "bandwidth limit exceeded." A posted message said, "The server is temporarily unable to service your request due to the site owner reaching his/her bandwidth limit. Please try again later."

The PED accusation was made in the documentary "The Dark Side," which aired Sunday. In the program, Manning is accused of having used human growth hormone (HGH) in 2011. The main problem with the assertion is that Sly didn't work at the facility as an unpaid intern during that time. Dr. Dale Guyer, founder of the institute, said Sly's unpaid internship lasted from from February-May 2013, ABC News reported Monday. Manning was treated at the facility in 2011 for neck injuries.
Dr. Guyer vehemently denied Manning used HGH during his treatment. "I have no reason to believe these allegations are based in fact or have any truth. In fact, I can say with absolute certainty they are not," he said in an official statement to ESPN Sunday. "I would emphasize that Mr. Sly was never an employee of the Guyer Institute and his brief, three-month internship occurred in 2013 during which time Peyton was not even being treated or present in the office. I think it is obvious that Mr. Sly has fabricated this whole thing for reasons I cannot fathom."
On the flip side, the unnamed reporter who investigated the story for Al Jazeera maintains Sly did work at the Guyer Institute in 2011, NBC Sports noted. "I talked to the Al Jazeera reporter late this afternoon who did this story and she told me that they have confirmation from the clinic that the informant's employment records say that he worked there in 2011," Sports Illustrated reporter Peter King said during NBC's "Football Night in America" broadcast Sunday.
Manning, 39, is angry about the accusations. "I can promise you this is a total fabrication," he told Sports Illustrated in an phone interview over the weekend. "I simply do not understand how somebody makes up something like this and it becomes a story. And then the guy admits he made it up and it's still a story. How exactly does that work?"
Al Jazeera stands by its story.
Follow me on Twitter @mariamzzarella
© Copyright IBTimes 2023. All rights reserved.
FOLLOW MORE IBT NEWS ON THE BELOW CHANNELS