Who Is Al Jazeera's Source? Charlie Sly Recants Peyton Manning HGH Allegation [VIDEO]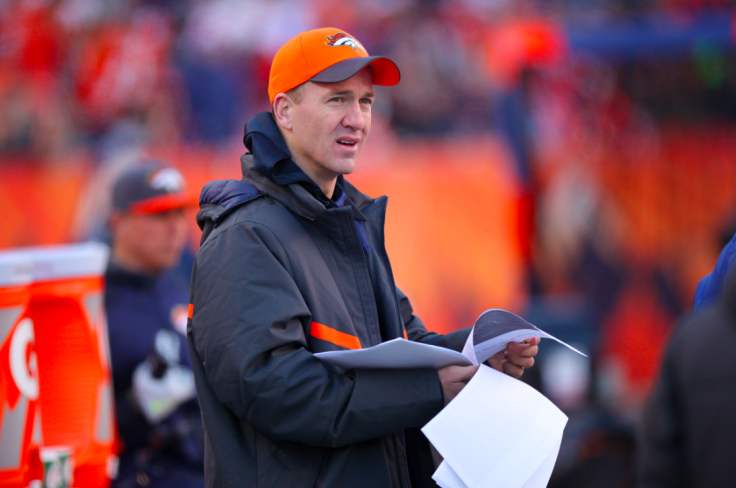 It was a major shock when cable network Al Jazeera claimed that Denver Broncos quarterback Peyton Manning used human growth hormone (HGH) in its documentary "The Dark Side," which aired Sunday. But now, not only has the star athlete denied the allegation, but Charlie Sly, Al Jazeera's source and a former intern at the Guyer Institute in Indiana, recanted his statement in a YouTube video Saturday.
"When I was there, I had never seen the Mannings ever," Sly said about the player and his wife, Ashley, and the medical and health facility where he worked, according to ESPN. "They were not even living there at that time. Someone who worked there said they had been there before. That was the extent of any knowledge I had. I feel badly. I never saw any files. This is just amazing that it reached this point."
Sly added that any recordings of him in the documenatry were made "without my knowledge or consent." He reiterated anything Al Jazeera used was "absolutely false or incorrect." He added: "To be clear: I am recanting any such statements and there is no truth to any statement of mine that Al Jazeera plans to air. Under no circumstances should any of those statements, recordings or communications be aired."
Manning, 39, slammed the doping accusations. "The allegation that I would do something like that is complete garbage and is totally made up," Manning told ESPN's Chris Mortensen Saturday. "It never happened. Never. I really can't believe somebody would put something like this on the air. Whoever said this is making stuff up."
The documentary claimed Manning took a supply of HGH in 2011 while he recovered from surgery. He apparently had the order shipped to his wife, according to the claim.
The documentary said Sly was a licensed pharmacist at the Guyer Institute in 2011. But Sly never worked as a pharmacist there, head of the institute Dr. Dale Guyer said, according to ESPN. Instead, he had a three-month internship in 2013.
The Broncos are on Manning's side. "Knowing Peyton Manning and everything he stands for, the Denver Broncos support him 100 percent," the team said. "These are false claims made to Al Jazeera, and we don't believe the report."
Follow me on Twitter @mariamzzarella
© Copyright IBTimes 2023. All rights reserved.