What Is It Like To Eat On Mars? Mars Food Study Wraps Up In Hawaii, Winning Recipes Revealed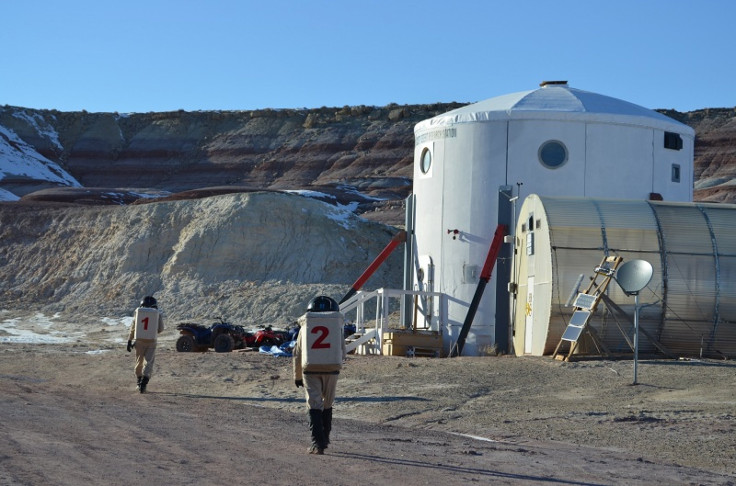 Researchers spent four months simulating what it would be like to live on Mars, focusing on what kind of food would best serve the needs of future colonists. The members of the Hawaii Space Exploration Analog & Simulation (Hi-SEAS) crew lived and ate like astronauts in a remote part of Hawaii and tested out recipes using ingredients similar to those currently being used by astronauts.
The Hi-SEAS crew members were selected by representatives from Cornell University and the University of Hawaii, reports the Associated Press. The project was created to address certain risks identified by NASA's Human Exploration and Operations Mission Directorate.
The crew members spent four months at Mauna Loa, a volcano located on the Big Island of Hawaii, inside a dome. The Hi-SEAS mission was to test new ways to prepare food for future astronauts spending months on Mars. According to its website, "This first mission will involve six astronaut-like (in terms of education, experience, and attitude) crew members living in the habitat for 120 days under Mars-exploration conditions (e.g. with communication latencies and blackouts, in close quarters, under strict water-use rules etc.)."
The mission was completed, and the members spent 118 days inside the Hi-SEAS Habitat. Inside the dome, the crew members ate and experimented with food recipes that would provide the needed nutrients for survival. According to the AP, the majority of food used in space is processed and lacks fiber, which has a variety of health benefits. Outside of the dome, the crew will adjust to life on Earth and will discuss the mission and will go over the data collected over the four months. One request the crew made, as told to the AP by Kim Binsted, a UH-Manoa associate professor involved with the food study, was for a relaxing day at the beach.
The recipes were submitted online by individuals from around the world and had to use processed ingredients that were readily available. For breakfast, the winning recipe was for "Blueberry Lemon Pancakes and No-Crust Quiche Muffins," which was made using egg crystals, freeze-dried blueberries, cornmeal, lemon powder, warm water and other ingredients. For a hearty stew, the crew's favorite was "Moroccan Beef Tagine," made with freeze-dried roast beef, dehydrated onions and peppers, various herbs and spices and rice. A recipe for "Spam fried rice" was chosen as the best main dish, while for dessert the "Dark Matter Cake" recipe was chosen by the Hi-SEAS crew.
© Copyright IBTimes 2023. All rights reserved.