What Paul George Re-Signing With Thunder Could Mean For LeBron James To Lakers
The idea that Paul George could re-sign with the Oklahoma City Thunder is gaining more and more steam, potentially throwing a wrench in the free agency plans of the Los Angeles Lakers. L.A. has been hoping to sign two star players in the 2018 NBA offseason, and acquiring both George and LeBron James would be the best-case scenario.
Multiple reports in recent days have suggested that George could decide to stay in Oklahoma City instead of going to Los Angeles, where the All-Star reportedly had eyes on playing when the Indiana Pacers traded him a year ago. ESPN's Stephen A. Smith noted Monday that there were indications George might sign a max contract with the Thunder. Marc Stein of The New York Times (via DailyThunder.com) reported Tuesday there is increased "support around the league for the idea that Oklahoma City can really convince George to stay."
George has a player option for $20.7 million next season that he's expected to decline, though that doesn't mean he's going to sign a long-term deal. He could agree to a shorter contract with Oklahoma City and explore the market again next season if the Thunder don't experience much success. The team was bounced in the first round of the playoffs in George's only season with Oklahoma City.
The Pacers traded George for Victor Oladipo and Domantas Sabonis last summer because the forward informed Indiana that he would leave in free agency this offseason. It's long been expected that he'd join his hometown Lakers, but George's year playing alongside Russell Westbrook might have changed things.
What does that mean for the Lakers' chances of landing LeBron James? It certainly doesn't seem to help them, considering Los Angeles' current roster. It's hard to believe that James would leave Cleveland for Los Angeles if the Lakers don't make any other key additions.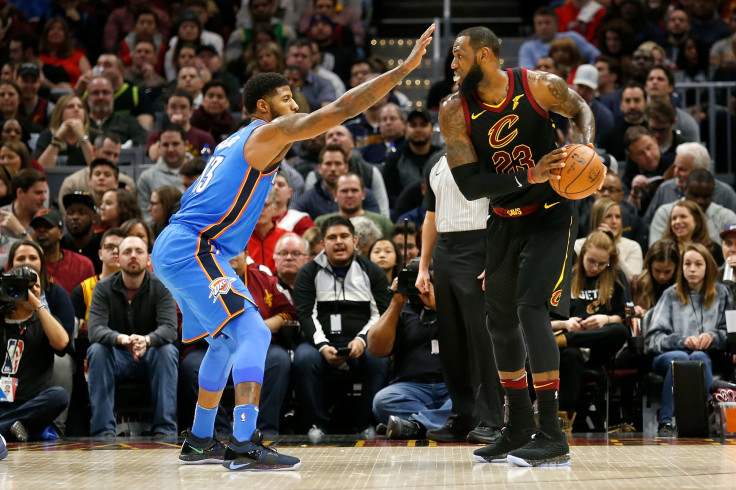 L.A. missed the playoffs this past season with a 35-47 record. Even if potential stars like Lonzo Ball and Brandon Ingram take a step forward, James and the current Lakers' core isn't a threat to win a championship. At best, they might be the No.3 team in the West behind the Golden State Warriors and Houston Rockets. James has proven that he can drag the Cavs to the NBA Finals in a weaker Eastern Conference.
The Philadelphia 76ers might become a more attractive destination for James. They've already got two All-Star caliber players in Joel Embiid and Ben Simmons, along with cap space for a max salary free agent.
George isn't the Lakers' only hope of acquiring an All-Star this summer, though he's the most realistic option in free agency. Kevin Durant and Chris Paul are expected to stay put in Golden State and Houston, respectively. DeMarcus Cousins is an unknown after an Achilles injury prematurely ended his 2017-2018 season.
L.A. could shift their focus toward making a trade if George opts to stay put. Kawhi Leonard will be the biggest name on their radar. He has made it known to the San Antonio Spurs that he wants to be traded, preferably to the Lakers, according to reports.
San Antonio has yet to aggressively explore moving Leonard. League sources have told ESPN that the Spurs are "unlikely to be motivated to facilitate a deal to the Lakers."
Leonard is a top-five player when healthy, and he'll have plenty of suitors if made available for a trade. A team like the 76ers or Boston Celtics could make a compelling offer for the two-time Defensive Player of the Year, even if they know Leonard would prefer to play in L.A. It's what the Thunder did a year ago when they traded for George, and they might be able to re-sign him after all.
Maybe the Lakers will be the only team that offers a compelling package for Leonard if he makes it clear he isn't resigning anywhere else, and San Antonio will agree to send their best player to the West Coast. A trade for another All-Star that hasn't been at the center of trade rumors certainly could arise if L.A. gets creative. They've got a plethora of young players that could intrigue opposing teams.
But the obstacles that stand in the way of the Lakers acquiring either George or Leonard could make it harder to convince James that L.A. is the place for him.
© Copyright IBTimes 2023. All rights reserved.