LeBron James Rumors: Houston Rockets Looking Like A Long Shot To Acquire Cavaliers' Star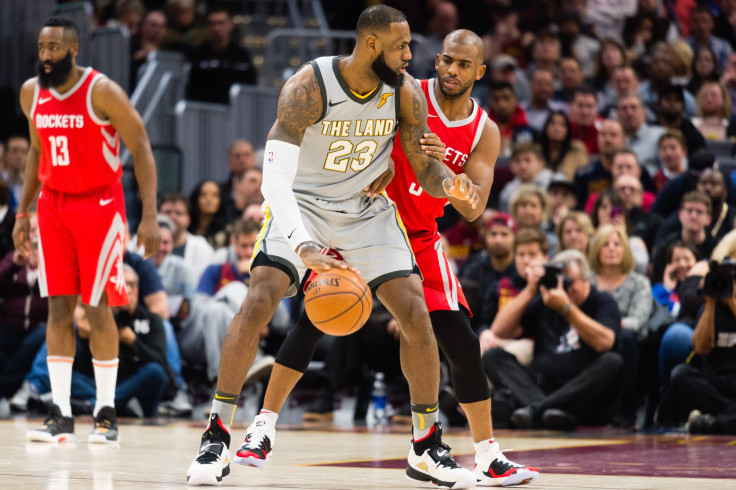 It's looking less and less likely that LeBron James will join the Houston Rockets this summer. The team that was once considered the favorite to land the NBA's best player might soon have to look elsewhere in their quest to topple the Golden State Warriors' dynasty.
ESPN's Stephen A. Smith said Monday that Chris Paul isn't getting far in his recruitment of James, and the Rockets' point guard is telling people that the league's top star isn't trying to go to Houston. This report comes a week after the Akron Beacon Journal's Marla Ridenour told ESPN that she heard James say earlier this past season that he "does not like Houston as a city."
Smith also reported that Paul believes James wants to join the Los Angeles Lakers. Nearly two weeks before James announced that he would take his talents to South Beach during "The Decision" in 2010, Smith reported that he would team up with Chris Bosh and Dwyane Wade on the Miami Heat.
A union between James and Houston has always been somewhat of a long shot, despite what any betting odds or rumors might have indicated. Assuming the Rockets re-sign Chris Paul to a max contract or something close to it, they'll be over the salary cap for the 2018-2019 NBA season with a payroll well north of $110 million. That doesn't even include Clint Capela, who is a restricted free agent after a season in which he was Houston's third-best player.
James can't sign with the Rockets as a free agent unless he is willing to take a massive pay cut. He'd likely have to opt-in to the final year of his contract, and the Cleveland Cavaliers would have to agree to trade him to Houston. The Cavs wouldn't get anything close to equal value for their best player in franchise history, acquiring role players and future first-round draft picks.
A lot can change over the next few weeks as James looks to make a decision. He has until June 29 to opt-in the final year of his contract. He can officially become a free agent on July 1.
The Cavs are exploring avenues to acquire another star that could play alongside James, having reportedly inquired with the San Antonio Spurs about Kawhi Leonard's availability. The Lakers are hoping to use their salary cap space to sign James and another max free agent, likely Paul George. L.A. is expected to get in on the Kawhi Leonard Sweepstakes, as well.
Unlike Cleveland and Los Angeles, Houston already has two stars that James can play with. James Harden will almost certainly win the 2018 NBA MVP award, and Paul performed like a top-10 player last season. Despite all the talk that Golden State is unbeatable, Houston took the champs to seven games in the Western Conference Finals, going 3-2 against the Warriors in games that Paul played.
James might not be chasing rings the way he did eight years ago when he signed with Miami. He's won three titles since then, and his decision could be about more than just basketball.
"I think at this point in his life, it's more so of a lifestyle thing of where my family is going to be the most comfortable and where I'm going to be the happiest," Wade said on FOX Sports radio last week.
The Rockets probably trail the Lakers, Cavs and Philadelphia 76ers in terms of the most likely destinations for James this summer.
© Copyright IBTimes 2023. All rights reserved.