What Is TATP? Paris Attackers Used Unstable Hydrogen Peroxide-Based Explosive For Detonations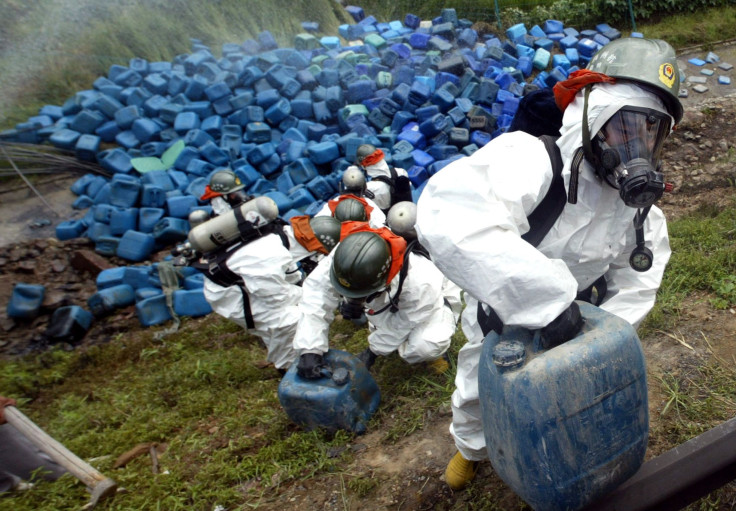 The suicide bombers who carried out attacks in Paris Friday night used an explosive called triacetone triperoxide, Paris prosecutor François Molins said Saturday. TATP can be made in a household using, among other ingredients, hydrogen peroxide. It is also very unstable.
French reporter Laurence Haim at Canal Plus told Variety that this is the first time a suicide bomber has attacked France. But it is not the first time TATP has been used in a terrorist attack.
Although invented in 1895, TATP had a resurgence, the Times of London reports, among Palestinians on the West Bank in the 1980s, and documents on how to make TATP are easily obtainable. TATP was used to make the bombs for the failed 21 July, 2005, attacks on London. It probably would have had the same effect as the deadly bombs used in London two weeks earlier, which were perpetrated with a different explosive. Fifty-two people were killed and more than 700 wounded in "7/7" attacks.
Explosives experts say TATP is easy to make, easy to set off, and susceptible to accidental detonations. "Frankly, I wouldn't like to be wandering around with 10 pounds of TATP on my back," said one British expert speaking to the Times in 2005.
A TATP-based bomb was detonated on a Dec. 11, 1994, flight to Japan, and a TATP bomb exploded outside the Israeli Embassy in London that same year. TATP was also used by Richard Reid, the would-be "shoe bomber" on a Dec. 22, 2001, flight from Paris to Miami.
The highly unstable nature of TATP has led to bombs inadvertently backfiring on attackers. "There are people who have thrown bombs with TATP that have ended up blowing their arms off," an English expert told the Orlando Sentinel in 2001.
© Copyright IBTimes 2022. All rights reserved.
FOLLOW MORE IBT NEWS ON THE BELOW CHANNELS