When Can Gay Couples Get Married In The US? Supreme Court Decision Effectively Makes Same-Sex Marriage Immediate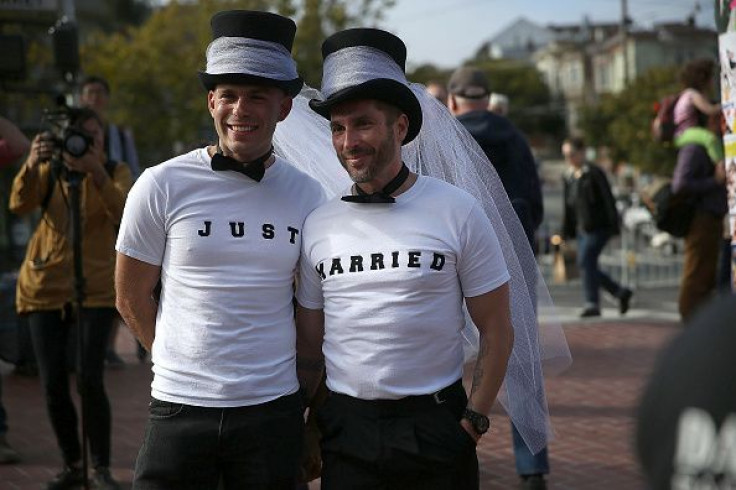 The Supreme Court ruling that gay marriage was guaranteed by the Constitution effectively means same-sex couples can start marrying immediately, even in states where gay marriage hasn't been previously recognized. The justices in their decision did not specify a date or time for the ruling to take effect, which essentially means it's immediate.
County clerks in some states where gay marriage was previously banned have already indicated they'll start issuing marriage licenses to same-sex couples. Clerks in several Michigan counties have said they would be ready to start issuing licenses. "We would start issuing immediately," Macomb County Chief Deputy Clerk Todd Schmitz told Michigan Live. "The state would [later] provide some updated forms, but we would be ready immediately."
Friday's Supreme Court ruling overturned state bans on gay marriage. Thirteen states have banned same-sex marriage by constitutional amendment or state law, but those bans have now been nullified. In Ohio, which made same-sex marriage illegal by constitutional amendment in 2004, some clerks have already started issuing marriage licenses to gay couples. "A couple of commentators have said that same-sex marriages are being performed in Ohio as we speak," according to the SCOTUS blog.
Advocates of gay marriage celebrated the ruling. "The Supreme Court today welcomed same-sex couples fully into the American family," James Esseks, of the American Civil Liberties Union, said in an emailed statement. "Today's historic victory comes on the backs of same-sex couples and advocates who have worked for decades to dismantle harmful stereotypes and unjust laws in the quest for equal treatment."
© Copyright IBTimes 2023. All rights reserved.
FOLLOW MORE IBT NEWS ON THE BELOW CHANNELS